Articles
Details

Published on Monday, 26 December 2011 15:46
Written by Special to Alachua County Today
Hits: 6904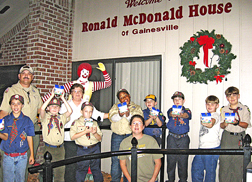 Front Row: Shelly Lewis, Assitant Den Leader; Middle Row L-R: Oliver Scott, Garrett Betke, Nathan Wells, Xavier Berry, Conner Lewis; Christian Lewis, Nick Sanders, Blake Sanders; Back Row L-R: Ron Lewis, Den Leader, Fran Klinger, Ronald McDonald House night manger
GAINESVILLE – Over the last six months, Alachua Cub Scout Pack 88 WeBeLoS 1, Den 2 collected pull tabs from aluminum cans as part of their requirement for a community service project.
The WeBeLoS traveled to the Gainesville Ronald McDonald House on Dec. 15 to meet Fran Klinger, night manager, presenting the pull tabs and taking a tour of the facility. Klinger provided a detailed description of the facility and how the pull tabs can help the Ronald McDonald House.
The pull tabs are recycled at a local metal scrap collector and the proceeds from the aluminum goes to help fund some of the daily living expenses of families living in the Ronald McDonald House. The families staying at the Ronald McDonald House are provided one of the facility's 31 rooms so they can be near a child that is hospitalized at the University of Florida Shands Hospital or receiving medical treatment within the Gainesville community.
The WeBeLoS also created handmade holiday greetings cards and donated holiday candy for the youngsters and families to enjoy. The WeBeLoS are still collecting empty pull tab boxes to continue ongoing efforts in supporting the Ronald McDonald House.
Although the house carries the name of Ronald McDonald, and features a familiar Ronald McDonald statue from the McDonald restaurant chain, only approximately 10 percent of the operating cost come from the McDonalds Corporation. The remainder of the proceeds comes from community support and donations, and the Ronald McDonald House in Gainesville is always looking for community support in the form of donations and volunteers.