City
HIGH SPRINGS – A local roadway has become a point of controversy for some in High Springs. In 2010, the High Springs City Commission approved a resolution prohibiting traffic along the roadway behind City Hall. On Thursday, Dec. 13, 2012, the issue was brought before the commission again, in the form of a new resolution, which if approved, would have repealed the 2010 resolution prohibiting traffic along the roadway and would have formally re-opened the road around James Paul Park to vehicular traffic.
The new resolution was prepared by City Attorney Scott Walker, at the direction of the sitting commission prior to the November election, in order to formalize a controversial 3-1 decision to reopen the road which was made during the Oct. 18, 2012 City Commission meeting.
With the failure of the new resolution, the road remains closed and no further action on re-opening it is currently anticipated.
# # #
Email Cwalker@
alachuatoday.com
Add a comment
City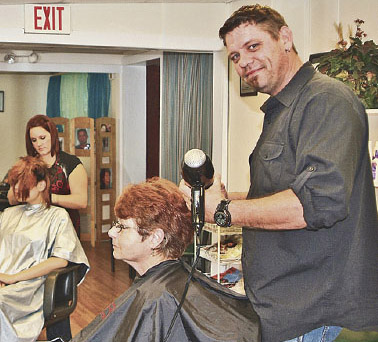 Tim Manning (Right) reently opened Shear Fusion hair salon on Alachua's Main Street.
ALACHUA - If you're in Alachua and need a haircut, there's a new salon creating a lot of buzz.
Owner Tim Manning opened Shear Fusion on Nov. 2. He said he decided to open the salon after finishing cosmetology school.
"I've always wanted to have my own business," he said. "I'm really good at doing hair. It just seemed like the logical thing to do."
He said he also wanted to save money and avoid a long commute. The salon is located on Alachua's Main Street.
"It made more sense to open something on my own that's literally right down the road from where I live," he said.
Manning said he's received positive feedback from customers so far.
Alachua resident Diana Felver said she first started visiting Shear Fusion after she found out her hairdresser was relocating. Although Felver said she hasn't had her hair done at the salon yet, she's bought hair products from the salon.
"The products we're getting from them -- I'm like a walking advertisement," she said. "Everyone's asking, 'What did you do to your hair?'"
She said her 19-year-old daughter, Jillian, visited the salon for a haircut and dye and loved it.
"She said it was the best haircut she ever had," Felver said. "The color is really gorgeous."
Felver said her daughter enjoyed the salon for the atmosphere as well.
"She said Tim was the most humorous hairdresser she's ever been to. She said he made her laugh the entire time. It was a really fun experience for her, too."
Manning said the salons prices are affordable with highlights priced at $65, hair color at $45, women's haircuts at $25 and men's haircuts at $10.
Local police officers, firefighters and EMTs receive half-priced haircuts at the salon. Manning said it's done to show gratitude.
"They're our local heroes," he said.
City of Alachua employees receive a 10 percent discount on services at Shear Fusion.
"We want to do something in return for all the people who bolster us up," he said.
Manning said he hopes to keep the salon on Main Street for a long time. He said he loves the camaraderie local business owners have.
"We're gonna be here," he said. "I absolutely love Alachua."
Manning thinks a small-town salon might make customers feel more at home.
"You get to know the people and you get to know their stories," he said. "Essentially, you end up with not just customers, but friends all over the place."
# # #
Email: astewart@
alachuatoday.com
Add a comment
City
Details

Published on

Thursday, 10 January 2013 01:50

Written by Special to Alachua County Today
Hits: 681
HAWTHORNE – The Hawthorne Area Historical Society will be hosting their second Annual Hawthorne Heritage Day on Saturday, Jan. 19. The event will be a include antique cars, old-time family activities including candle dipping, rope and corn husk doll making. Great "local" barbeque by Pop Herring and music for singing and dancing will also help celebrate Hawthorne's history. Special guest Sharon Ferraro of the Old House Network will talk about "Preservation – Opportunity from our Past for our Future at 2 p.m.
Hawthorne Heritage Day will be held at the Hawthorne Museum and Cultural Center located at 7225 S.E. 221 Street in Hawthorne from 11 a.m. – 4 p.m. For further information call 352-318-1265 or 352-494-3790.
Add a comment