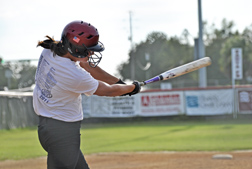 ALACHUA – SunState Federal Credit Union and
Alachua County Today
newspaper are partnering to organize a pep rally for the Santa Fe Babe Ruth 12U Softball team.
The team of 16 girls is the host team for the 2012 Babe Ruth Softball World Series, which is slated to begin Aug. 2, and will bring thousands of people to the area.
But before visitors arrive, SunState and Alachua County Today want to send our local team into the playoffs with the full support of the community. The pep rally has been scheduled for Monday, July 30 at 5:15 p.m. on the steps of Alachua City Hall.
Each of the players will be presented with a World Series helmet and other items to show community support.
Robert Hart of SunSate Federal Credit Union said the pep rally is about making this a memorable year for the Santa Fe Babe Ruth 12U Softball team and to let them know the community is behind them.
"We want to send our girls into the World Series with as much fanfare as possible," Hart said, encouraging others in the community to participate. Other local businesses and the general public can take part in the celebration and rally in several ways, the easiest of which is to show up at the July 30 pep rally and bring friends and co-workers. Hart even suggests folks make posters to hold up at the event.
Hart is preparing goody bags with an assortment of knick-knacks and memorabilia for each of the players. Anyone with items to contribute should contact Robert Hart by calling SunState Federal Credit Union at 386-462-3900.
The team includes players from across the area including Alachua, High Springs and Gainesville.
The pep rally is free and open to the public. All in the community are encouraged to show their support by showing up on the steps of City Hall at 5:15.
# # #
Email This email address is being protected from spambots. You need JavaScript enabled to view it.
Add a comment
Add a comment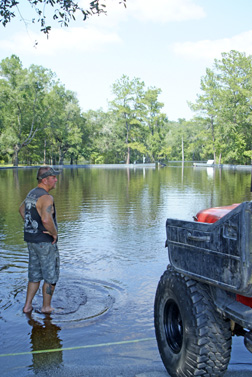 HIGH SPRINGS – High water levels along the Santa Fe River, although a welcome sight for many people, have brought devastation to many others, and present a serious danger to those looking for recreation on the water.
Suwannee River Water Management District (SRWMD) issued an official warning regarding the upper Santa Fe River, the portion along the Alachua County border, calling for extreme caution.
"The public is strongly urged to temporarily avoid swimming, tubing, canoeing or kayaking in the portion of the upper Santa Fe River bordering northwest Alachua County west of Interstate 75 due to dangerous water conditions," the agency said in a June 29 release.
According to the Alachua County Environmental Protection Department, strong currents, submerged trees and other debris can cause entrapment, serious injury and drowning. Moreover, the SRWMD warns of "powerful, hidden siphons" as a result of high flow and low groundwater level conditions. Those siphons, they say, can drown even a strong swimmer by pulling them through hidden underwater cavities at the bottom of the river.
Flood waters along the Santa Fe at U.S. Highway 441 near High Springs had forced the closure of several roadways, including one entrance to Camp Kulaqua.
Camp Kulaqua Director Phil Younts said access to the property via its main entrance had been cut off due to flooding, but access remained available from County Road 236 through a field.
"We also had three buildings where water got into the garage, but not into the main buildings," he said, noting that scheduled programs, such as planned canoe trips, were also affected.
"The water is receding, the road is back open again and we're moving forward," Younts said.
Substantial flooding left both people and animals stranded at River Rise Resort where Florida Fish and Wildlife Conservation Commission (FWC) officers launched boats in an effort to help them reach safety. The river's flood waters reached as far as the nearby Santa Fe Bar in Columbia County.
While the waters are receding, the river is expected to remain at a flood stage into next week. At U.S. 441 near High Springs, the Santa Fe River crested at 46.07 feet on Friday, June 29. Near Fort White, the river reached 32.24 feet on Saturday, June 30. The flood stage there is about 24 feet, and as of Wednesday, July 4, the river remained at 28.73 feet. At Three Rivers Estates, the Santa Fe River crested at 23.27 feet on Sunday, July 1. With a flood stage near 19 feet, the river at that location was still at 22.26 feet on Wednesday, July 4.
The FWC has declared an idle-speed, no-wake zone along a 32-mile segment of the Santa Fe River because of the flooding. That segment runs from River Rise in O'Leno State Park west to where the river meets the Suwannee River. The agency says the idle-speed, no-wake zone remains in effect until the water level recedes below 17 feet.
In addition to precautions for recreation along the river, the SRWMD is issuing warnings for septic, water well and other flooding concerns.
"Residents are strongly urged to avoid pumping or trenching any water from their property to property of adjacent landowners. Such action will likely result in new or additional damage to neighbors' homes and property. If you have questions about the pumping issue, call your public works department," the agency said in a release June 29.
They also warn that now is not a good time to pump out septic tanks, saying, "After pumping, your septic tank will fill back up with water in the ground through drain fields." Moreover, they say as a result of the pressure on the walls from the abundance of water, older septic tanks could collapse, among other damaging complications.
County health departments in the area are concerned about potential well contamination and safe water issues. The SRWMD warns that wells, which have been covered at any time by flood waters, present a health risk and should be tested before being used. Water that is used should first be brought to a boil and allowed to roll for at least one minute. Testing of wells can be done by local health departments. The Alachua County Health Department can be reached at 352-334-7900.
# # #
Email editor@
alachuatoday.com
Add a comment
Add a comment
Details

Published on

Sunday, 10 June 2012 14:55

Written by Valera Delgado and Bryan Boukari
Hits: 805
Area seniors celebrate graduation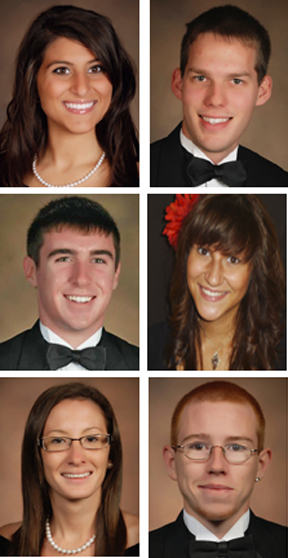 Top Row L-R: Heather Hoffman, George Saltzgiver; Middle Row L-R: William Herring, Rachel Lewis; Bottom Row L-R: Amanda Pernin, Nicholas Wade
ALACHUA COUNTY – Students from Alachua County public schools celebrated their high school graduations this past week. Hawthorne Middle/High School (HHS), Newberry High School (NHS) and Santa Fe High School (SFHS) students are embarking on their new life journey as high school graduates, and many of them will continue their education at colleges throughout the nation. NHS commencement was held Thursday, May 31 at the O'Connell Center; HHS graduation was held Saturday, June 2 at the Phillips Center for the Performing Arts; and SFHS commencement was held Saturday, June 2 at the O'Connell Center.
SFHS valedictorian William (BJ) Herring and salutatorian Rachel Lewis will both be attending the University of Florida (UF) this fall.
William Herring is the son of Bill and Debbie Herring of Alachua. He was on varsity cross county for four years and served as captain from his sophomore through senior years and Editor-in-Chief of the 2012 yearbook at SFHS. His activities included Beta, SADD, Interact, FCA, cross country, soccer, track and field and weightlifting. Herring plans to pursue a degree at UF's M.E. Rinker Sr. School of Building Construction.
Rachel Lewis is the daughter of Diane and Allen Lewis of Alachua. Lewis was a member of BETA, Interact, FCA, softball and volleyball. Dual enrolled, she also received an AA degree from Santa Fe College.
NHS valedictorian Heather Hoffman plans to attend the University of Florida along with several other NHS graduates, including salutatorian George Saltzgiver.
Heather Hoffman is the daughter of Teresa and Joseph Hoffman of Newberry. She was the Editor-in-Chief of the NHS yearbook, SGA president, cheerleader and a member of Spanish Club, FBLA and the National Honor Society. Hoffman plans to study Architecture at the University of Florida.
George Saltzgiver is the son of Phil and Helen Saltzgiver of Newberry. He was on varsity track, archery and varsity cross country teams. He is an Eagle Scout, dual enrolled at Santa Fe College, was a member of High School High Tech, the National Honor Society and participated in the Lexus Environmental Challenge. Saltzgiver plans to study computer science at the University of Florida.
HHS valedictorian Amanda Pernini plans to attend Santa Fe College. Nicholas Wade, salutatorian, plans to attend Daytona State College.
Maurice Dykes of Waldo is Pernini's guardian. Pernini was a member of Beta, on the yearbook staff and participated in Educational talent search in partnership with Santa Fe College. With a 3.9 unweighted grade point average, Pernini received numerous scholarships, including Education Foundation, Becca's Closet, Hawthorne Chamber of Commerce and Hawthorne Women's Club. Pernini plans to study health care administration at Santa Fe College.
Nicholas Wade is the son of David and Patsy Wade of Hawthorne. He was a member of the dram club, Beta and played baseball for four years. Wade has an unweighted grade point average of 3.7 and plans to study athletic training at Daytona State College.
Add a comment
Add a comment
Details

Published on

Saturday, 30 June 2012 15:22

Written by Special to Alachua County Today
Hits: 605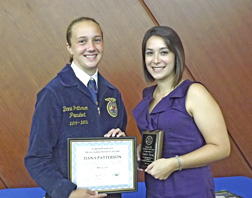 L-R: High Springs Community School Outstanding Student in Career and Technical Education Dana Patterson and Career and Technical Education Rookie Teacher of the Year Ashley Young.
HIGH SPRINGS – School may be out for the summer, but five FFA students at High Springs Community School (HSCS) are about to take one last field trip for the school year. They will attend the FFA State Convention in Orlando on June 27-28 where their chapter will be recognized as one of the top 30 in Florida.
HSCS students Kadie Feagle and Cody Donaldson will join three other classmates as Cheyenne Donaldson, Heather Donaldson and Tim Myers will attend the convention as well as compete in the state Agriscience Fair.
FFA sponsor and agriculture teacher for HSCS, Ashley Young, helped organize a fundraiser with The Great Outdoors Restaurant in High Springs to pay for the FFA State Convention field trip.
FFA students shadowed waiters and waitresses and worked for tips Tuesday and Thursday evenings in March and April to help with the cost of attending the convention.
Assistant principal Beth Pearlman recently spoke with Carol Doherty, manager at The Great Outdoors, to thank her for the restaurant's continued support of High Springs Community School educational initiatives.
At the end of the school year, HSCS was twice recognized by Alachua County Career and Technical Education, as Ashley Young was named Career and Technical Education Rookie Teacher of the Year, and HSCS eighth-grader Dana Patterson received the Outstanding Career Pathways Student Award for Alachua County Career and Technical Education. Patterson is the first HSCS student to receive this accolade.
# # #
Submit your story by
Emailing This email address is being protected from spambots. You need JavaScript enabled to view it.
Add a comment
Add a comment
Details

Published on

Saturday, 02 June 2012 15:52

Written by Special to Alachua County Today
Hits: 501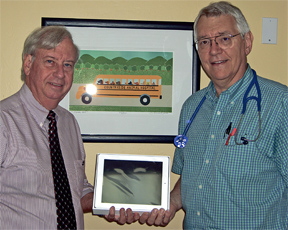 Dr. Gene Stine (right) takes possession of a new iPad from Kiwanis Club of Santa Fe president Tom Weller (left) after winning the device in a raffle.
HIGH SPRINGS – Dr. Gene Stine is the winner of the new iPad raffled off by the Kiwanis Club of Santa Fe. The raffle was recently held by the club to raise funds for its projects to help the children and others in need in the Alachua and High Springs communities.
Dr. Stine, a veterinarian, is shown receiving the device from club President, Tom Weller, who practices law in High Springs. Dr. Stine said that he was happy to support the club and its endeavors in the area.
The club recently donated a large trailer to the local Bread of the Mighty Food Bank project. Now it is far easier to collect and distribute the food for the communities.
The club has been active in the nine years of its existence. Club membership is open to all who want to help out children and the less fortunate. The club meets weekly at Brown's Country Buffet in Alachua.
# # #
Submit your story by
Emailing community@
alachuatoday.com
Add a comment
Add a comment