Gayle B. Pons and Richard Blalock receive awards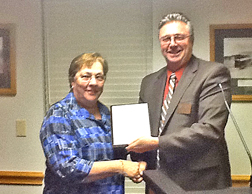 Longtime City of Newberry employee Gayle "Mickey" Pons was congratulated by City Manager Keith Ashby for her selection as the Employee of the Year.
NEWBERRY – City commission meetings aren't always about municipal budgets, property zoning or city ordinances. Sometimes meetings are used to recognize community members for their accomplishments. This was the case at Monday's city commission meeting when two city employees received accolades for their efforts.
Monday night, Newberry's city clerk of over a decade was awarded Employee of the Year. Gayle B. Pons, who goes by "Mickey," has worked for the City of Newberry for 23 years.
Pons moved to Newberry from the Alachua and High Springs area in 1965. She said the people in Newberry made her feel right at home.
"I wouldn't want to live anywhere else now," she said.
As city clerk, Pons works closely with a large range of departments within city government. She handles administrative duties and helps with anything her fellow employees need. "I'm proud to do it," she said.
Pons also said she is proud of the three "A" schools in Newberry and the churches, but she is most proud of the growth of recreation in the city. "I think it's a pretty place for recreation and parks," Pons said.
And it was the city's parks and recreation director, Richard Blalock, who also received an award Monday night.
At the meeting, Blalock presented an overview of the progress of the City of Newberry Parks and Recreation Department. He showed that from 2010 to 2011, the Diamond Sports Park generated a profit of over $14,000. He also noted that sports facilities in Newberry drew visitors from both national and international locales.
Blalock was presented with the Bronze Gator Award for his contribution to the sports industry in Newberry and the county.
Pons and Blalock were praised for their outstanding efforts in working on behalf of Newberry.
Add a comment
Add a comment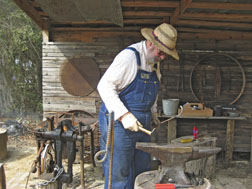 Jim Dresser of High Springs demonstrates blacksmithing at Dudley Farm's Plow Days this past weekend. While Dresser has been blacksmithing for less than a year, he was a favorite with children at this year's Plow Days.
NEWBERRY – Dudley Farm Historic State Park embraced the simple and sometimes demanding life of traditional 1800s farming during its annual Plow Days event, held Friday and Saturday.
Plow Days hosts an array of period crafts and activities, such as quilting, knitting, blacksmithing, old-fashioned cooking and, of course, plowing.
Three generations of the Dudley family worked the farm from the 1850s to the mid-1940s. The family farmhouse, with its original furnishings, remains to this day, along with 17 other buildings that constituted the homestead.
"Interpretation is key. Being in the park service, I have always loved interpreting to visitors the ecosystems, the plants and the history of the park," said Sandra Cashes, Dudley Farm employee and 12-year Florida Park Service employee.
Cashes is in charge of producing park events, working with volunteers of the park and with the support organization for the park.
Plowing is the main attraction of the event, where tractors are forbidden to touch the land and only the use of draft horses and old-fashioned plowing equipment are permitted.
Alan Yager, a resident of Selkirk, Ontario, Canada, owns a farm in Ocala and decided to volunteer his plowing services to the park four years ago.
Each year, Yager brings his two draft horses to the event to help plow the farm fields.
"First thing we do is turn all the soil over, any of the trash and weeds over. Then we work the soil down to prepare the seedbed for this spring," Yager said.
In addition, Yager provides his own plowing equipment – a vintage red-and-yellow plow he attaches to his horses.
"I purchased this plow equipment, which is 80 or 90 years old, and it reminds me of what my grandfather must have done. It's a heritage thing," Yager said.
For visitors, the plowing is something of a spectacle, especially for those who have only seen tractor-driven farming.
"I've never seen [the draft horses] being used to this extent, and what they're capable of doing in such a short period of time, it's just an amazing sight," said Bill Carter of Fort White, Fla.
While this was Carter's first time coming to the plowing event, he has made it a point to visit the state park with his wife and children to experience the nature it offers in contrast to an otherwise tropically dominated state.
In addition to the plowing, demonstrations of old-time lifestyle are key to the overall historic feel of the park.
Stephanie Bartsch and Adelheid Olivier are two volunteers who demonstrate old-fashioned cooking and homemaking at the event. They share something in common other than their passion for the traditional lifestyle the event offers.
Bartsch and Olivier were both born in Germany and came to the United States later in their adult lives. The two women connect with each other, speaking in German, and speaking of their similar heritage.
Bartsch, a resident of Micanopy, Fla., has been volunteering at the Dudley Farm Park since 2007. This is her fourth year volunteering at the Plow Days event. Bartsch said she is usually stationed in the kitchen to give demonstrations in making cornbread and other foods, using the antique oven and stove and cracking pecans by hand.
She said she believes everything the event has to offer brings the farm alive in its authenticity.
Olivier, a resident of High Springs, Fla., has been volunteering at the farm since 2004. She said she enjoys showing visitors around the park and the farm area in addition to teaching people about the history of the park.
Olivier provides demonstrations on quilting, knitting, crocheting, basket making, and other domestic crafts she said she considers to be somewhat-lost arts.
Olivier said she sees the craftwork as important for each generation to pass on because of the more appreciable quality that characterizes homemade products.
Olivier's husband, Jim Dresser, also participates in the event, demonstrating blacksmithing near the front of the park.
A retired accountant from the North, Dresser took up blacksmithing less than a year ago. He said he looks forward to improving his skills and his station at the event in the years to come.
"Building fires and beating on metal, what more could a guy want?" Dresser said.
Olivier said the children that come to the event are astounded by Dresser's blacksmithing station, possibly more than most other activities at the event.
Plowing and other activities bring to life a quasi-forgotten time, in a place where history can be seen in the untouched, wooden farm buildings framed by billowing trees and vines.
"I think it's very important for the younger generations and school-aged children to come and see the way things were, their heritage," Carter said.
Add a comment
Add a comment
Details

Published on

Saturday, 28 January 2012 15:58

Written by Special to Alachua County Today
Hits: 4718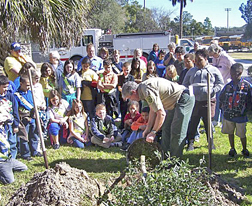 Area students in Newberry celebrated Arbor Day on Jan. 19 by planting a tree on the grounds of Newberry's Little Red Schoolhouse.
Add a comment
Add a comment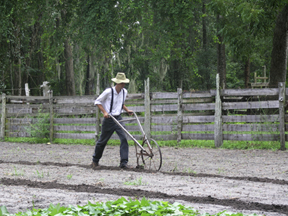 NEWBERRY – Dudley Farm State Park will be hosting its Plow Days event Friday, Feb. 3 and Saturday, Feb. 4, from 10 a.m. to 2 p.m.
The park will have plow teams exhibit old-fashioned farming, before the reliance on tractors, and the farming lifestyle of the post Civil War period.
Plow teams and mule teams will use draft horses, vintage plows, discs and harrows in order to cultivate the land before springtime planting in April.
During the two-day event, participants split up the plowing of two to three acres of soil.
Visitors can walk the nature trails and view wildlife throughout the day, in addition to viewing quilting, spinning and rope-making demonstrations.
The park grounds will be filled with period music and visitors will be able to enjoy wagon rides around the park.
Event admission is free with paid park admission of $5 per car up to eight occupants.
Dudley Farm Historic State Park, 18730 W. Newberry Road, is located seven miles west of Interstate 75 on State Road 26, between Newberry and Gainesville.
For more information, go to www.floridastateparks.org/dudleyfarm or call 352-472-1142.
Add a comment
Add a comment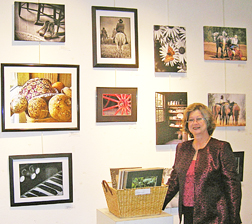 Photo by LARRY BEHNKE special to Alachua County Today. Diane Blackford, High Springs Art Co-op artist of the month, stands next to her photographs, which are the featured display for the month of January.
HIGH SPRINGS – The High Springs Art Co-op celebrated its featured artist of the month at an opening reception last Friday evening. Located at 115 N. Main Street, the Art Co-op offers space for member artists to enjoy their craft and to display their works.
January's artist of the month, Diane Blackford, has been a High Springs resident since 1998. Originally from Min., she moved to Florida in 1956 and attended Lake Worth High School.
Blackford specializes in photography, striving to capture the area's abundant nature through her lens. She mounts many of her photos on canvas and has them stretched for display. Blackford also employs Photoshop to create unique images from her original photographs. Her work will be on display for the month of January at the Art Co-op.
The first Friday of each month the Art Co-op offers a reception for the new artist of that month. In addition to the opportunity to meet co-op artists, patrons enjoy cheese, crackers, and wine. The next reception will be held on Feb. 3.
Add a comment
Add a comment