Details

Published on

Sunday, 08 January 2012 14:42

Written by Special to Alachua County Today
Hits: 11304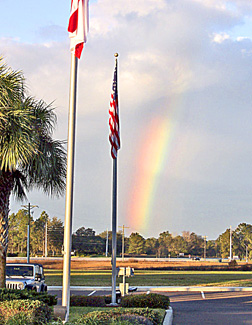 A reader submitted this photo taken last Friday at the Alachua Regional Service Center of an early morning rainbow which appeared around 8 a.m. in a sunny sky over Alachua.
Add a comment
Add a comment
Details

Published on

Saturday, 31 December 2011 22:12

Written by Special to Alachua County Today
Hits: 7529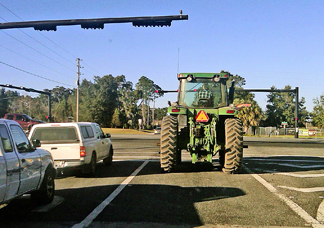 A reader submitted this photo of a John Deere tractor waiting to cross US Highway 441 at the intersection of CR 235A in Alachua on Dec. 27.
Add a comment
Add a comment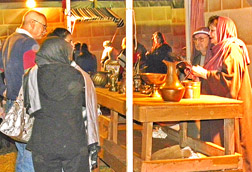 A year in the making, the Fellowship Church in High Springs brought the Christmas story to life with "One Story Live from Bethlehem."
HIGH SPRINGS – Daniel invited all weary travelers to his inn in Bethlehem last weekend. Before it was over, he had taken in 3,200 souls looking to escape the cold.
Fellowship Church in High Springs held "One Story Live From Bethlehem" on Dec. 11 and 12, sharing the story of Jesus' birth with the community. As visitors entered the ancient city, they were greeted with a "shalom" by city elders who welcomed them into the town of Bethlehem.
There they saw a fully functioning community, complete with vendors, to give visitors an idea of what the town of Jesus' birth was like 2,000 years ago. Almost every congregation member was involved, acting their parts as Bethlehem citizens.
Fully consumed Romans patrolled the grounds and arrested people for not paying taxes, creating an uproar in the citizenry, who muttered "Roman dogs" at them periodically. Children bartered with shopkeepers for bread, paying them in shekels or trading other goods. Sheep bleated from their pen, making their presence known to everyone within earshot.
The guests were then invited to Daniel's inn to hear the story of Jesus' birth. Suzi Walters wrote the original script with help from her husband, Matt. She also directed the production.
"I had the idea almost two years ago, and it took me a year to write," she said. "It must have been God."
Fellowship Church had been putting on the event since 1988, but took a break two years ago to change the focus to what was most important, said Windy Bridges, ministry assistant. Walters used the inn as a method to draw in visitors in a way they hadn't experienced before.
"We were hoping that if people didn't know Jesus as their savior, they discovered him," she said, "and for people who did, we hoped it would spark a deeper understanding."
When the audience was seated in the outdoor theater, they were welcomed by Daniel and his wife, Sarah to the inn, built and painted by church members. It featured a few buildings and a stable with a palm-frond roof. Daniel swept the porch while talking to the audience, explaining that the busiest time the inn had ever seen was around the time Joseph and Mary came to stay.
The performers went through the story, explaining that the only room for the couple was the stable and taking the audience through the birth of Christ. Various shepherds and inn workers came onstage, offering their accounts of the miraculous event.
The lights faded on the manger scene, with the three wise men and worshippers gathered around Jesus, Mary and Joseph. Even the goat in the stable watched faithfully.
Pastor Jeff Powell walked out with his wife after the performance ended to explain to the audience what they had just witnessed.
"He came to die on the cross for you and for me," he said. "What about you, weary traveler, where do you stand with God and with Jesus?"
Austin Fletcher, 12, who played Daniel's son Levi in the play, said reminding people of this relationship with Jesus was what the cast hoped to do.
"We made a lot of impressions," he said. "We got everybody to hear the Lord."
The performers rehearsed for a year for the show. Many had never acted before, like Ron Fletcher who played Lem, a shepherd. He said he got involved to bring glory to Jesus.
"What inspired me was prayer," he said. "If we can reach one person, that's amazing."
Sabrine Suggs attended the event for the second time this year, bringing her nine-year-old daughter. She said the work the church put in was amazing.
"It's just a good thing they do," she said. "Most people won't. This is what it's about. They get it."
Guests came from not only the local area, but also from Jacksonville and as far as New York to see Fellowship Church's Bethlehem. Sophia Shaw, of Fort White, said she thought the event was incredibly beneficial to the community.
"I love that the pastor said it's not just that Jesus was born, but it's what he's doing now," she said. "This will draw people to Christ and make people know the real meaning of the holiday."
Add a comment
Add a comment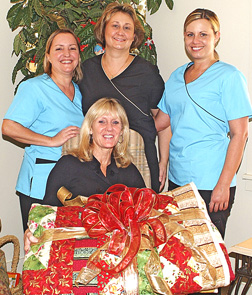 Alachua Dental Center staff Karen Davis, Dena Cribbs, and Brandy Sandlin present Missy Dia with a handmade quilt she won in the office's annual holiday drawing.
ALACHUA – If one were to ask what does a dentist, a handmade quilt and Daytona Bike Week have in common, the answer most likely would be not much.
Handmade quilts have a rich tradition, spanning continents and dating back hundreds of years. Historically, quilts have not only provided warmth and comfort, they have also symbolized art forms of heritage and cultures, and have even included designs that illustrate a story.
While four years may seem a short period when compared to centuries, for a local dentist, his tradition of celebrating the season with the help of a handmade quilt is memorable.
Dr. Marc Cauchon of Alachua Dental Center started a tradition in support of a local woman's home-based business just down the road from his office— Quilts by Martha. Each year Cauchon buys two of Martha's hand-made quilts. He gives one to family or friends as a gift, and the other he gives to one lucky patient.
The office holds a raffle to determine the winner of the second quilt, and this year it was Gainesville resident Missy Dia. Dia has been a patient of Cauchon's for about a year, and was excited to learn she was this year's quilt winner.
She plans on using the colorful quilt, which depicts festive holiday emblems such as holly and ornaments, on the bed in her guest room. But her plans don't end there.
Upon learning about Quilts by Martha, and seeing her creative designs woven into the blocks of fabric, Dia hopes to have a special quilt sewn for her son who is returning from Iraq. Over the years she has purchased souvenir tee-shirts commemorating Daytona's Bike Week for him, and she will soon be taking a boxful of the shirts to Martha to be sewn into a keepsake quilt for him as a gift.
Add a comment
Add a comment
Details

Published on

Saturday, 10 December 2011 17:32

Written by Special to Alachua County Today
Hits: 10112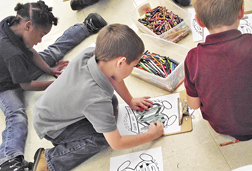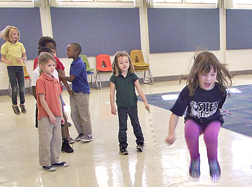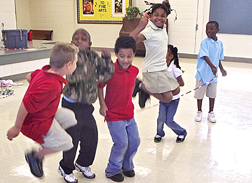 Center: Shell Elementary's Makayla O'Dell is not only a great jumpter, but is apparently a great fundraiser as well, pulling in more than any student with $150 for the American Heart Association. At left and right: Shell Elementary's music and PE teacher Mr. Harrington and art teacher, Mrs. Herndon, worked with students during the Jump Rope for Heart event on Nov. 21 as students at the school raised a total of $573 to benefit the American Heart Association.
Add a comment
Add a comment