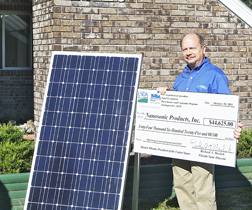 Dr. Jeffrey Tate, President and CEO of NanoSonic Products, received a federal grant for the purchase of a photovoltaic system that will generate enough electricity to meet the company's energy needs.
ALACHUA – The sun was shining in Alachua on Thursday morning as NanoSonic Products, Inc. accepted a nearly $50,000 grant to help the company become more energy wise.
President and CEO of NanoSonic Products, Dr. Jeffrey Tate, welcomed the gathering that included representatives from United States Department of Agriculture (USDA) Rural Development, nearby biotech firms and City of Alachua officials
Tate's company was the recipient of a $44,625 grant to purchase and install a photovoltaic system. The system is expected to generate enough electricity to serve all of the company's manufacturing needs. Tate said the reduced electricity costs would give his company a competitive advantage in the marketplace.
USDA Rural Development State Director Richard A. Machek was on hand to sign and present the ceremonial check to Tate on behalf of the company.
"This small business is to be commended for implementing a long-term strategy to meet its current and long-term energy needs," said Machek.
Referring to Tate's notion that the solar panels present an economic advantage, Machek said, "Renewable energy sources present an enormous economic opportunity for rural America.
Encouraging others at the ceremony Thursday to consider possible grants that could benefit their organizations, Tate said, "This is real money that is really going to help our business, and I know there are grants out there that can help others as well."
Thursday's celebration came on the heels of a measure adopted by the City of Alachua earlier this month that would allow excess electricity generated by customers to be purchased back by the City at the retail rate. That ordinance was finalized this week
Add a comment
Add a comment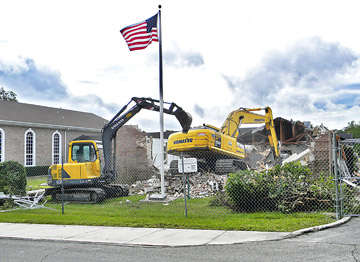 The First Baptist Church of Alachua has demolished its fellowship hall building, and will be replacing it with an 18,500 square foot multi-purpose facility. New construction is expected to take 10 months.
Add a comment
Add a comment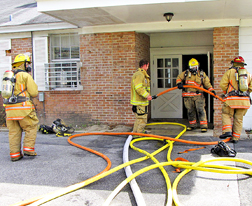 Firefighters and rescue personnel have been gaining hands on experience during training exercises at a First Baptist Church of Alachua building, which is slated for demolition to make way for the church's new multi-purpose facility.
ALACHUA – In October, the First Baptist Church of Alachua (FBCA) will begin demolishing a half-century old building, which runs alongside its sanctuary in downtown Alachua. The church plans to build an entirely new facility, which will be much larger, said Sherry Cato, a member of the Administration team working on the project.
Built in the mid-1960s, the current structure houses a kitchen, a fellowship hall and three classrooms – all within a 6,000 square-foot space.
Ringing in at a whopping 18,500 square feet, the new facility is slated to include a two-story building with classrooms for children and youth, a kitchen and a full-size gymnasium for activities such as basketball, volleyball and church social events, Cato said.
To be named The FBCA Family Ministry Center, the new building is being made possible through a large donation from a benefactor and an additional $400,000 in funds raised by the church's congregation.
Over the last week, the facility to be demolished has been a hotbed of activity as the FBCA has made it available to local fire and rescue personnel for training exercises. For the week of Oct. 3, construction crews will be removing asbestos found in the building. Then on the week of Oct. 10, fire and rescue personnel will again utilize the building for more invasive training exercises, which are to include breaking holes in the roof, walls and windows and the use of water, said Cato.
Following the FBCA's Oct. 16 church service, the congregation plans to hold a kickoff celebration. In the days that follow, local company O'Steen Brothers Construction will begin full demolition on the site. Once available, the actual date of the start of demolition will be posted on the church website at www.fbcalachua.com.
Construction of the new building is expected to take about 10 months.
Add a comment
Add a comment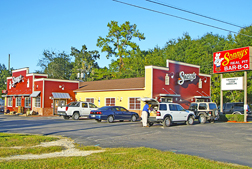 The doors are open once again at Sonny's in Alachua. The restaurant had closed to undergo a redesign after the restaurant chain's founder Sonny Tillman sold the business in late August.
ALACHUA – With a facelift inside and out, Sonny's Real Pit Barb-B-Q of Alachua was reopened Tuesday evening as new owners of the restaurant hosted a private party to celebrate and showoff the redesign.
Until the end of August, the popular Alachua eatery had been owned by Sonny Tillman's family since it opened in 1983. The restaurant has been closed for remodeling since the family sold it to Ken Kirkpatrick and Chip Dixon.
Exterior remodeling is noted by the entirely new façade giving the establishment a bolder highway presence. Like the outside, the interior redesign is not dissimilar to that of the NW 39th Avenue Sonny's in Gainesville.
In lieu of an interior takeout and order window, the entryway now boasts a lunch counter for customers who wish to sit down, but don't want to grab a full table. The area surrounding the lunch counter harkens back to yesteryear, with Sonny's memorabilia including old advertisements and signs.
From wall to wall and floor to ceiling, the dining room has been given a fresh look with new paint, booths, tables and ceiling tiles.
Although the restaurant was open for business to the general public Wednesday, Kirkpatrick said it was a soft reopening and the eatery would hold an official grand re-opening at a later date.
Also at a later date are plans to expand the restaurant to make the restrooms fully compliant with the Americans with Disabilities Act (ADA). Changes in the size of the restaurant to accommodate those improvements are still months away because it will require approval by the City of Alachua.
Kirkpatrick is no stranger to the Sonny's chain. In 1977, his father, John Kirkpatrick, opened the first Sonny's restaurant not owned by the Tillman family. That location, on State Road 200 in Ocala, is still in business and still owned by the Kirkpatrick family.
"Sonny [Tillman] is such an important part of our chain," Kirkpatrick said in a previous interview. "It's going to be wonderful having him right there in Alachua watching over us."
The acquisition of the Alachua Sonny's makes it one of 17 now owned by Kirkpatrick.
Add a comment
Add a comment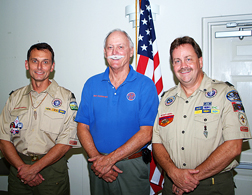 Al Warrington (left) and Alachua mayor Gib Coerper (right) were among those in attendance at Monday's ceremony honoring Fred Hilton (center) as he stepped down from serving as scoutmaster of Alachua Boy Scout Troop 88 after years of service.
Known to many around Alachua as the man who puts on a spectacular fireworks display each 4
th
of July, Fred Hilton has also wowed scouters in local Boy Scout Troop 88 and beyond.
"The amazing Fred Hilton…he wears many hats," Bob Bieniek, a local realtor and fellow-scouter said.
Monday marked the last meeting in which Troop 88 would see Hilton as its Scoutmaster. Instead, the father of five is trading in his Scoutmaster hat for that of football, where he'll be helping to coach his youngest son.
Though Hilton will no longer serve as the adult leader of the Alachua troop, his legacy clearly lives on, many of the scouters agree.
In a Court of Honor, where boy scouts are typically recognized for their achievements, adult recognition of any sort is rare. But Monday evening in a special Court of Honor at the First United Methodist Church of Alachua, Hilton's impact on the troop took center stage as young scouts and old alike thanked him for his service to the organization.
After Hilton bestowed rank advancements and merit badges on dozens of youngsters Monday, he expected to make the formal transition a quick one as the newly-tapped Scoutmaster, Al Warrington, steps in to fill his shoes. But what began as a simple farewell by Hilton quickly turned into more than an hour of accolades and gifts by parents, boy scouts and fellow leaders.
Scouts joined together to give Hilton gifts by which to remember their appreciation for his guiding leadership. Hilton was overcome as scouts presented him with a special issue Buck knife with a personalized inscription which hailed him as the "best scoutmaster."
Hilton was perhaps most embarrassed when given a desk ornament displaying a less-than-flattering photo of him, which was snapped shortly after waking up on a camping trip.
He was also given a framed and matted Norman Rockwell print called "The Scoutmaster," which was to be signed by all of the scouts. Among the numerous other gifts was a Santa Fe shirt to jumpstart his football coaching adventure, a bronze eagle sculpture and other plaques and photos.
Hilton was forced to stand by quietly as scouts and parents spoke about their experiences with him. Though always thankful for his leadership, the stories often evoked laughter from the packed room as they joked with Hilton.
The farewell event garnered the attention of City of Alachua officials as Mayor Gib Coerper and Vice-Mayor Ben Boukari, Jr. offered their appreciation to Hilton.
When Hilton took over the troop several years ago, youth participation was at a low. In the time since his leadership and that of several other parents and scouters, including Mike Rhodes, the Boy Scout troop has blossomed to a roster of dozens of scouts.
Hilton saw a record-setting 13 scouts achieve the rank of Eagle while leading the troop as Scoutmaster. As a testament to his leadership, Troop 88 had more scouts who achieved the rank of Eagle than any other troop in the North Florida Council when the Boy Scouts of America celebrated its centennial last year.
After nearly a decade in scouting, Hilton is leaving his role as a leader. Warrington, a fellow-scouter and longtime friend of Hilton, is assuming the title of Scoutmaster of Troop 88.
Warrington said he admired Hilton's leadership and dedication, and he hopes to live up to the standards Hilton set.
Add a comment
Add a comment