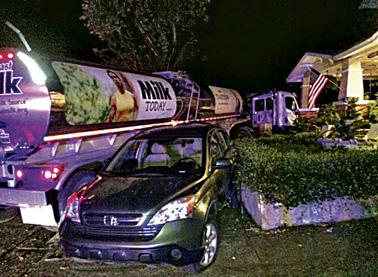 PAUL REGENSDORF/Special to Alachua County Today
The Grady House, an historic landmark in High Springs, was damaged when the driver of a semi-tractor-trailer on U.S. Highway 27 made a right hand turn, hitting a parked car, a retaining wall and porch pillar before coming to a rest on the lawn.
HIGH SPRINGS – A vehicle and historic structure were damaged in the early morning hours of Saturday, July 9, by a semi-tractor-trailer traveling west on U.S. Highway 27.
A legally parked, unoccupied 2007 Honda CRV, owned by Lucie Regensdorf, was struck first, according to a High Springs Police Department (HSPD) accident assessment. "Thereafter, the semi made a hard right turn and subsequently struck a [block] retaining wall and the western portion of the Grady House Bed & Breakfast," said HSPD Lt. Antoine Sheppard.
The driver, James R. Laughlin, Jr., Lake City, was cited for failure to drive within a single lane. HSPD initially estimated damages to the vehicle and property at over $15,000.
"The empty milk truck smashed into my wife's car," said Grady House co-owner, Paul Regensdorf. "Then spun it [the car] around smashing it into the retaining wall in front of the Grady House. The truck [driver] then lost control and crossed the sidewalk in front of the Grady House, taking out the mailbox and obliterating the concrete retaining wall and railing.
"The truck then climbed onto the front yard at the Grady House, crashed into a pillar of the porch, moving it and damaging it, but not knocking it down, and then came to rest with the truck's nose almost against our front fence and the trailer across the front yard," said Regensdorf.
The Grady House is a significant structure in High Springs. "Originally, the Grady House was a one-story bakery," said Regensdorf. It opened as a railroad boarding house in 1917 following renovations to add a second story. "The house will be 99 years old this year," he said, "and is listed on the National Historic Registry."
Although Regensdorf believes his wife's car is "totaled," the house will only need some relatively minor repairs. He is talking with structural engineers and others to make sure repairs are done properly to maintain the structural and historical integrity of the building. There were no injuries to the driver of the vehicle.
# # #
Email Cwalker@
alachuatoday.com
Add a comment