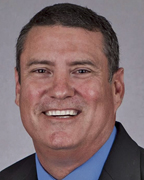 HIGH SPRINGS –Governor Rick Scott announced three new appointments and five reappointments to the State of Florida's Construction Industry Licensing Board last week. Among the new appointments is Scott Thomason, 46, building official for the City of High Springs.
Thomason, who is from neighboring Ft. White, has been High Springs' building official since June 2015. He is one of only two building officials named to the licensing board. He holds four state contractors licenses and is a third generation contractor. Thomason succeeds Edward Weller and is appointed for a term beginning January 27, 2016, and ending October 31, 2018.
"I am very honored to receive this appointment both personally and professionally," said Thomason. "I have always been a proponent of contractors being properly licensed. Unlicensed contractors put people's lives and property in danger."
Thomason and the Florida Department of Business and Professional Regulation (DBPR) recently conducted a sting operation in High Springs to try to put a stop to unlicensed contractor activity. On Jan. 5, DBPR issued a Consumer Advisory announcing that 13 unlicensed contractors were found to be doing business in Alachua County. "The unlicensed individuals offered professional electrical and construction services that require a license issued by DBPR," said the Consumer Alert.
"Although the police were involved in this sting," said Thomason, "most of the penalties this time were financial. I don't think that will be the case next time."
The Construction Industry Licensing Board's responsibilities include working with contractors who are trying to get their licenses and with contractors who have had issues that need to be resolved; reviewing and approving contractors' license applications; and suspending or revoking licenses.
The Board meets 11 times per year at different locations in central Florida.
Other new members named to the Board include Michael Strickland, Lakeland, a building contractor and the president of Strickland Construction, Inc. and Rachelle Wood, Jupiter, a sheet metal contractor and the president of Dolphin Sheet Metal, Inc.
Members reappointed include Mary Layton, Tampa, a general contractor and the senior project manager for Walbridge; William "Brian" Cathey, Port Saint Joe, a general contractor and the president of Cathey Construction and Development; Aaron Boyette, Tallahassee, the president of PSBI; James Evetts, New Port Richey, a building official and floodplain manager for the City of New Port Richey; and Roy Lenois, Daytona Beach, a pool contractor and the chief executive officer of Artesian Pools of East Florida Inc.
All appointments are subject to confirmation by the Florida Senate.
# # #
Email Cwalker@
alachuatoday.com
Add a comment