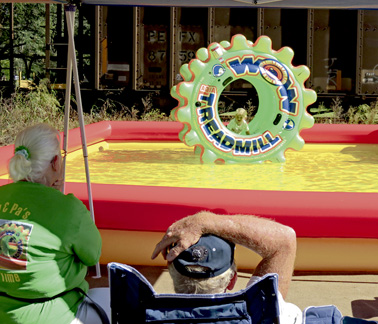 Youngsters enjoyed the many activites geared toward children at the festival. The inflatable hamster wheel, above, proved to be a popular attraction. (Today photo/RAINA BARNETT)
NEWBERRY – Giant inflated hamster wheels powered by eager toddlers floated across the water in an inflatable pool in downtown Newberry on Saturday, Nov. 5.
The Newberry Fall Festival, an annual event that brings together local vendors, artists and families, was made possible in large part by Jean Marie Evans, the director and president of the Main Street Newberry Association.
"The goal [of this event] is to help develop economic growth in Newberry," she said. "We hope people will stop by to visit the festival, get to see our town, meet our friendly residents and decide to come back again."
"This is our 10th annual festival and it gets bigger every year," said Evans. "The number of vendors participating this year is 78, which is up from last year's vendor list of 52. Although we didn't have a counter last year to gauge the number of attendees, this year we did and had approximately 1,400 visitors," she said.
Handmade knives, homemade beef jerky, handcrafted children's clothes and home baked sweets were just a few of the available items for sale.
Trey Whidden, a teacher and Newberry resident, sat in the shade with his family enjoying snow cones.
"We were just passing through," he said. "We naturally gravitated towards the kids' activities."
One of the most popular attractions was the "Walking on Water," activity for kids.
Kay Simonds, owner of "Ma and Pa's Funtime," said she was inspired by the idea of giant hamster wheels.
"These things can hold up to 450 pounds," she said. "After three minutes of playing around in them, the little kids are all tired out."
Amid the aroma of freshly grilled hot dogs, the lure of sweet treats and unique goods for sale, Newberry locals and visitors alike enjoyed the beautiful and breezy November weather.
"We hope everyone has a good time," Evans said. "This is a place where people can stop and just have good conversation."
# # #
Email Rbarnett@
alachuatoday.com
Add a comment