Kent Doke and Gerry Vaugn review materials used in producing "Pioneers of Northwest Alachua County, Florida. A group of 22 writers have collaborated for over six years in putting the 460-page book together. Today Photo/C.M. WALKER

ALACHUA COUNTY – Anyone interested in the history of the early settlers of Alachua County will be in for a treat. "Pioneers of Northwest Alachua County, Florida" is a historic compilation written by descendants of settlers to the northwest Alachua County area. Concentrating mostly on the areas north and south of County Road 236, family stories, histories of schools and churches long gone and humorous anecdotes about growing up in the Bland, Santa Fe, Sugar Hill and Traxler communities abound in this 460-page hardbound book.

Historical photos of those early settlers and a map showing where each family, church or school was located is also included in this comprehensive and entertaining book.

Some may wonder how so many family histories could have been compiled into one book and who took on the challenge of gathering folks together to compile such a comprehensive look at early northwest Alachua County. Kent Doke, a dapper 86-year-old Alachua resident with a deep, mellow voice one would expect to hear on National Public Radio, tackled the task of bringing everyone together and establishing some guidelines for the 22 writers who contributed to this historical tome.

"As chairman of the Alachua High School Reunion Group I earlier helped put together a history of the school, said Doke. "It was a nice little notebook which we donated to the Alachua Branch Library. They asked if they could digitize the notebook and we agreed," he said.

"I asked a variety of people what they thought about doing a larger notebook to document some of the schools that disappeared so long ago, that the Alachua County School Board admitted they had never heard of them," he said. "People seemed interested, but what finally got the process going was an elderly resident who finally said, 'Look, we're not going to live forever. When are you going to get this project going?'" As it turned out, she did not live to see the book completed, but she did contribute her family's history before she died, according to Doke.

"I would never have tackled this project if it hadn't been for Irene Bryant who agreed to dedicate the hours it took to help successfully complete the project," said Doke. "She was a major contributor and editor, along with some other wonderful editors we had throughout the project."

"We are in the process of wrapping it up now. We have a few stories that need final touches and we are contemplating listing the stories in chronological order." If that's how they decide the articles will be listed, a story about the Spanish Mission, which was written by Doke, is likely to be the first article.

Although they didn't think to include these areas originally, it turned out that the area north of LaCrosse and the Newnansville area were mentioned in the stories.

Once the group met, they decided they had a rather exclusive setting right where they all lived. The Santa Fe River would be their northern border, "because if we crossed the river we would be in Union and Columbia counties," said Doke. Due to the placement of the river separating the counties and because many original settlers' descendants remained in the area, "we believed we had a unique location in which to confine our efforts," he said.

Doke and his group of 15-20 people first began their journey on May 26, 2010. "There were 11 families there and as time went by, other families heard about our efforts and offered to provide more articles, information and anecdotes," he said. Some of these families have been in the area from when Florida was acquired from Spain.

The group met every third Wednesday of the month with the exception of December, "because people were busy with the holidays." Oral tradition and storytelling is included along with factual information about who married whom and how many children they had.

Doke admitted these schools and families included in the book were for the most part white. "We have one black contributor," he said. "The black population had already written a half dozen or so booklets about their history when we began the project. They were so far advanced that we felt we had better catch up," he said.

The group was asked to list any ancestors who had held office in Florida or in the county somewhere, what their ancestors did for a living, identify where their family settled and when, include funny stories and anecdotes and generally tell the story of their families.

"There is a photo of a school class standing outside of the Bland school house," said Doke. "All of the children in the row were barefooted except one child. The story goes that his mother found out in advance that school photos were being taken that day and that's why he had shoes on," chuckled Doke. It's just one of many anecdotes included in the book.

"Of course the book will be available as long as we have them," said Doke, "but pre-sales will help us determine how many books to print."

"Pioneers of Northwest Alachua County, Florida" is planned to be printed and available for Christmas gift-giving. Anyone who wishes to order the book in advance may contact Martha Morton at morton.martha@ymail.com or Celita Withey at 386-454-1266. The cost is $35. Checks are to be made out to Celita Withey, Bland Notebook.

# # #

Email Cwalker@

alachuatoday.com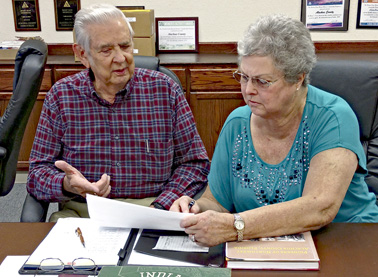 Kent Doke and Gerry Vaugn review materials used in producing "Pioneers of Northwest Alachua County, Florida. A group of 22 writers have collaborated for over six years in putting the 460-page book together. Today Photo/C.M. WALKER
ALACHUA COUNTY – Anyone interested in the history of the early settlers of Alachua County will be in for a treat. "Pioneers of Northwest Alachua County, Florida" is a historic compilation written by descendants of settlers to the northwest Alachua County area. Concentrating mostly on the areas north and south of County Road 236, family stories, histories of schools and churches long gone and humorous anecdotes about growing up in the Bland, Santa Fe, Sugar Hill and Traxler communities abound in this 460-page hardbound book.
Historical photos of those early settlers and a map showing where each family, church or school was located is also included in this comprehensive and entertaining book.
Some may wonder how so many family histories could have been compiled into one book and who took on the challenge of gathering folks together to compile such a comprehensive look at early northwest Alachua County. Kent Doke, a dapper 86-year-old Alachua resident with a deep, mellow voice one would expect to hear on National Public Radio, tackled the task of bringing everyone together and establishing some guidelines for the 22 writers who contributed to this historical tome.
"As chairman of the Alachua High School Reunion Group I earlier helped put together a history of the school, said Doke. "It was a nice little notebook which we donated to the Alachua Branch Library. They asked if they could digitize the notebook and we agreed," he said.
"I asked a variety of people what they thought about doing a larger notebook to document some of the schools that disappeared so long ago, that the Alachua County School Board admitted they had never heard of them," he said. "People seemed interested, but what finally got the process going was an elderly resident who finally said, 'Look, we're not going to live forever. When are you going to get this project going?'" As it turned out, she did not live to see the book completed, but she did contribute her family's history before she died, according to Doke.
"I would never have tackled this project if it hadn't been for Irene Bryant who agreed to dedicate the hours it took to help successfully complete the project," said Doke. "She was a major contributor and editor, along with some other wonderful editors we had throughout the project."
"We are in the process of wrapping it up now. We have a few stories that need final touches and we are contemplating listing the stories in chronological order." If that's how they decide the articles will be listed, a story about the Spanish Mission, which was written by Doke, is likely to be the first article.
Although they didn't think to include these areas originally, it turned out that the area north of LaCrosse and the Newnansville area were mentioned in the stories.
Once the group met, they decided they had a rather exclusive setting right where they all lived. The Santa Fe River would be their northern border, "because if we crossed the river we would be in Union and Columbia counties," said Doke. Due to the placement of the river separating the counties and because many original settlers' descendants remained in the area, "we believed we had a unique location in which to confine our efforts," he said.
Doke and his group of 15-20 people first began their journey on May 26, 2010. "There were 11 families there and as time went by, other families heard about our efforts and offered to provide more articles, information and anecdotes," he said. Some of these families have been in the area from when Florida was acquired from Spain.
The group met every third Wednesday of the month with the exception of December, "because people were busy with the holidays." Oral tradition and storytelling is included along with factual information about who married whom and how many children they had.
Doke admitted these schools and families included in the book were for the most part white. "We have one black contributor," he said. "The black population had already written a half dozen or so booklets about their history when we began the project. They were so far advanced that we felt we had better catch up," he said.
The group was asked to list any ancestors who had held office in Florida or in the county somewhere, what their ancestors did for a living, identify where their family settled and when, include funny stories and anecdotes and generally tell the story of their families.
"There is a photo of a school class standing outside of the Bland school house," said Doke. "All of the children in the row were barefooted except one child. The story goes that his mother found out in advance that school photos were being taken that day and that's why he had shoes on," chuckled Doke. It's just one of many anecdotes included in the book.
"Of course the book will be available as long as we have them," said Doke, "but pre-sales will help us determine how many books to print."
"Pioneers of Northwest Alachua County, Florida" is planned to be printed and available for Christmas gift-giving. Anyone who wishes to order the book in advance may contact Martha Morton at This email address is being protected from spambots. You need JavaScript enabled to view it. or Celita Withey at 386-454-1266. The cost is $35. Checks are to be made out to Celita Withey, Bland Notebook.
# # #
Email Cwalker@
alachuatoday.com