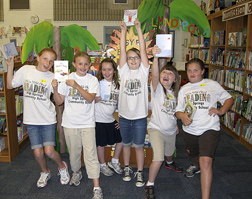 Holding their favorite SSYRA book, are Meredith Forrester, Kamryn Senn, Sarah Weitz, Carli Forsberg, Lacey Walls and Madison Estepp.
HIGH SPRINGS – On April 23, 2012 students at High Spring Community School (HSCS) voted for their favorite Sunshine State Young Readers Award (SSYRA) book.
The third and fourth grade students were chosen to count the votes because they have read all 15 of the books that were nominated for the award.
The book that came in first for HSCS is "Out of My Mind" by Sharon M. Draper. This is also the book that won the SSYRA Award for the state.
The SSYRA is a statewide reading motivation program for students in grades 3-8, and encourages students to read independently for personal satisfaction, based on interest rather than reading level. At HSCS, the SSYRA program is coordinated by Nancy Ensminger, the school's library media specialist.
Submit your story by
Emailing community@
alachuatoday.com
Add a comment