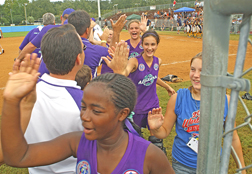 Pitt County North Carolina takes Babe Ruth World Series Championship
ALACHUA – After a long road to the end, a team from Pitt County, North Carolina took the championship in the 2012 12U Babe Ruth Softball World Series that wrapped up Wednesday evening. After a big 16-3 win against Marshall County, Tennessee Tuesday evening, Pitt County rode the wave into the championship games. Having been dealt their only loss by Lodi, California in a Monday evening game, Pitt County could not afford another loss. And it was the undefeated girls from Lodi who Pitt County would face off against in the Championship games.
Pitt County pulled out a 6-5 win in the 11:30 a.m. game against Lodi Wednesday. With both teams having suffered a loss to each other, the two battled it out in a winner-take-all game Wednesday afternoon. And the winner was the Pitt County team, which knocked in a 6-0 shutout to clinch the championship title.
# # #
editor@alachuatoday.com
Add a comment