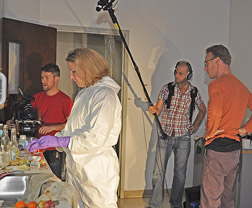 ALACHUA – It is likely that super sleuth Sherlock Holmes would have been amazed by modern crime scene forensics. And what better location is there than Alachua's CSI Academy of Florida to showcase mock crime scenes for a film about Holmes. A London-based production company plans to feature the facility in a documentary. The CSI Academy, which is located in the Phoenix Industrial Park at 12787 U.S. Highway 441in Alachua, equips students with the tools necessary to enter into the field of crime scene investigation and to create more jobs within this field.
The film, produced by Love Productions, will focus on how Sherlock Holmes changed the world of modern crime-scene investigating.
The company filmed mock crime scenes and other footage at the 28,000-square-foot facility Wednesday and Thursday. The documentary will be released sometime in 2013.
Debbie Mongiardo, a member of the CSI Academy's management team, said they expect a lot of exposure from the documentary.
"It's definitely an opportunity for us," she said. "It's a big deal. It's exciting."
She said an employee from the production company contacted one of the academy's instructors and asked about filming.
Mongiardo said the facility, which opened in September, has received inquiries from all over the country.
The academy offers a one-week basic course, primarily for law enforcement officers, and a 300-hour, seven-week course for anyone who is interested in a career in crime scene investigation.
The classes available include crime scene photography, ballistics, death investigations, blood evidence, fingerprint collection techniques, ballistics, sex crime investigation and more.
The programs are designed to prepare students to competently process crime scenes.
According to Department of Labor Statistics, CSI jobs are expected to grow by 19 percent from 2010 to 2020, about as fast as the average for all occupations. Competition for jobs will be strong because of substantial interest in forensic science.
Mongiardo said the seven-week course is $11,150, and that includes meals, textbooks and latent print kits. The academy sets up indoor and outdoor mock crime scenes to provide realistic training for students.
According to the Occupational Outlook Handbook published by the Bureau of Labor Statistics, detectives and criminal investigators earn an average annual salary of about $58,000, or about $28 per hour. A beginning crime scene investigation salary ranges between $34,000 and $45,000. A crime scene investigator salary can approach $100,000 with solid experience.
Additional information about the CSI Academy is available at http://www.csiacademyflorida.com.
# # #
Email astewart@
alachuatoday.com
Add a comment