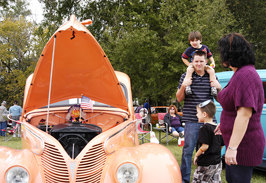 Dustin and Elizabeth Simmons of High Springs, joined by sons Logan, 5, and Lucas, 2, checked out the cars on display at the car show on Saturday.
HIGH SPRINGS – The 20th Annual High Spring Rotary Car Show held Oct. 27 in the historic downtown area along the railroad tracks was a major hit.
Saturday's balmy weather of breezes and a lightly overcast sky was the perfect setting for the much anticipated event. The day of family fun started with a donation-based breakfast provided by the Rotary Club and continued with a ticket drawing and good food all day long, said Rotary Club president Heather N. Clarich.
Over 100 vintage, muscle and sports cars were on display. The specialty award Best Auto Paint went to Jim Hopkins and his 1971 Chevrolet Nova, and Best Custom went to Bonnie Moran with Drop Top Customs and her 2010 Dodge Challenger. Best of Show for Stock went to Don McCullen with his 1961 Bentley S5. Best of Show Modified went to Greg Murray and his 1932 Ford 3-Door Coupe. Best of Show Cycle went to Robin Hendrickson and her 2009 Yamaha V-Star 1300 Stock Metric. Many other awards were given, including to the top 25 picks by those who registered in the show.
Almost $200 was given away for the 50/50 ticket drawing, which splits the dollars raised between the ticket holder and the Club. Proceeds from ticket sales, registration fees, shirt sales and food sales benefited, among other programs, the Rotary Club Dictionary Project that aims to provide every third-grader in the district with dictionaries.
"It was a great year for funds raised, and we're looking forward to putting those monies right back into our community!" Clarich said. "We're looking forward to next year's show!"
Clarich also said that thanks go out to the Rotary Member volunteers, advertisers and sponsors, including the Santa Fe High School Interact Club and High Springs Boy Scout Troop #69.
# # #
cgrinstead@alachuatoday.com
Add a comment