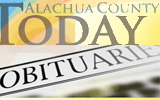 Rufus Arnett White Sr., 97, of High Springs passed away in his home Tuesday, June 12, 2012. He had been a resident of High Springs since 1968.
Mr. White was born in Quitman, Ga. on February 17, 1915. He was the son of Kinch White and Hattie Arnett White and siblings Homer, Raymond, Edna, Louise, Verna, and Geraldine.
He spent his early childhood on their 2,000 acre family farm that he loved very much. He moved to New Smyrna in his late childhood with his mother Hattie. As a young man, he traveled to many places in the eastern United States, from the Florida Keys to Maine. He eventually found his home in Miami and also the love of his life, Edna Mae Albury. They were married December 21, 1935. They shared 58 loving years of marriage until Edna passed away in 1994 at age 76.
Mr. White is survived by five children; Shirley (Martin) Paulson; Diane; Rufus (Susan) White, Jr.; Dalton (Jean); and Richard. He is also survived by 17 grandchildren, 20 great-grandchildren and one great-great grandson. He is predeceased by wife Edna and grandson Richard White, Jr.
Add a comment