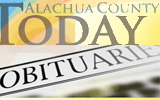 Anna Lee Elliott, 71, of Alachua passed away on May 21, 2012.
She is survived by her husband of 54 years, Donnie Joe Elliott; children, Debra (Richard) Novotny, Donna Elliott, Jeff (Sandra) Elliott; grandchildren, Michelle Gaekle, Cannsus Clarke, Jason Novotny, Donnie Joe Novotny, Jeffrey Elliott, and Lora Elliott; great grandchildren, Brandon Patalan, Austin Gaekle, Taelor Hastings, Corby Moore, Alixandria Moore, and Alyciana Parks.
Visitation was held at Evans-Carter Funeral Home in High Springs on Thursday, May 24, 2012 from 4-5 p.m.
Add a comment