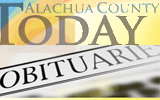 Walser Keith Newman, 82, of Ft. White, Fla., passed away on March 17, 2012 in Gainesville, Fla.
He was a banker and a member of First United Methodist Church of High Springs.
He is survived by sons, Gregory Newman of Carrabelle, Fla., Graham Newman of Coral Springs, Fla., and Christopher Newman of High Springs; and 11 grandchildren.
Visitation will be on Saturday, March 24, 2012 at 10 a.m., followed at 11 a.m. by a funeral Service at First United Methodist Church, 17405 NW US Hwy 441, High Springs, Fla., officiated by Rev. Benton Mangueira. Interment will be in High Springs Cemetery.
Arrangements are under the care of Evans-Carter Funeral Home, High Springs.
Add a comment