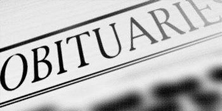 Lorraine Jean Hall, 82, of High Springs, Fla., passed away on December 30, 2011 at Still Waters West ALF in Lake City, Fla.
She worked in child care as a nanny and was of the Christian Faith.
She is survived by her son, Richard Lee (Sherry) Lane of Simi Valley, CA and her daughter, Darla J. (Michael) Taylor of High Springs.
Visitation will be on Monday, Jan. 2, 2012 from 9 to 10 a.m. at Evans-Carter Funeral Home Chapel followed by a funeral service at 10 a.m. Arrangements are under the care of Evans-Carter Funeral Home, High Springs, Fla.
Add a comment