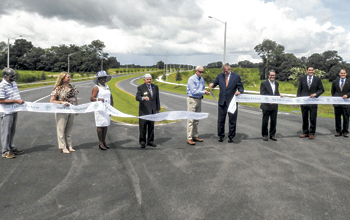 ALACHUA – What was once just a sketch on paper has become reality as Alachua's San Felasco Parkway has opened. On Tuesday, July 28, with a large crowd in attendance, the road was officially opened with a ceremonial ribbon cutting.
Among those attending were members of the City of Alachua Commission and staff, University of Florida President Kent Fuchs, State Representatives Chuck Clemons and Clovis Watson, Jr. as well as members of the public.
Several speakers from the City of Alachua, including Mayor Gib Coerper, City Manager Adam Boukari and Public Services Director Rodolfo Valladares provided their insights into the project and the great potential the Parkway offers for bringing hi tech economic development to the area,
University of Florida President Kent Fuchs said the academic community is enthused to play a part in the future expansion of knowledge as well as helping give a start to entrepreneurs in the UF Innovation program.
This first phase of the San Felasco Parkway includes a 1.4-mile divided road with sidewalks and bike paths. The road passes though the University of Florida Foundation's 280-acre site southwest of Progress Park. Water, wastewater and electric infrastructure improvements are also included to provide "shovel ready" sites for high-tech industries to build on with all the utilities in place.
In addition to new industry, many high-tech firms that will use the parkway are already established in the area. The road is in close proximity to Copeland Park, Alachua Research Park, San Felasco Tech City and the Santa Fe College Perry Center. In addition, students from Santa Fe College and the University of Florida provide an excellent workforce pool and serve as a catalyst for innovation and further advances in their fields. Many of the tech companies in these parks were spin-offs created by University of Florida graduates or staff.
The presence of the Sid Martin Biotechnology Incubator also provides another valuable asset to grow these industries. And looking back 25 years, it was the University of Florida's founding of the Sid Martin Biotechnology Incubator on a vacant piece of land between Alachua and Gainesville that became the impetus for what would become a world-renown biotechnology hub.
At that time, the newly constructed facility was surrounded by open fields and little else. Designed to help tech entrepreneurs and scientific startups, the incubator attracted companies that would occupy incubator space and use shared scientific equipment. As the startup companies grew and matured, they moved out of the incubator with many locating into space in Progress Park. Today, over three dozen companies employing over 1,200 are centered in Progress Park.
The first phase of the San Felasco Parkway is reality and is one of the single largest capacity and infrastructure improvement investments built in the last decade in Alachua County, with more to come. While there are no confirmed plans yet, development on the UF foundation land may include a combination business and residential community for employees in the expanding Progress Park.
As Alachua Mayor Coerper put it, "The futures so bright that I'm wearing shades".
# # #
Email rcarson@
alachuatoday.com
Add a comment