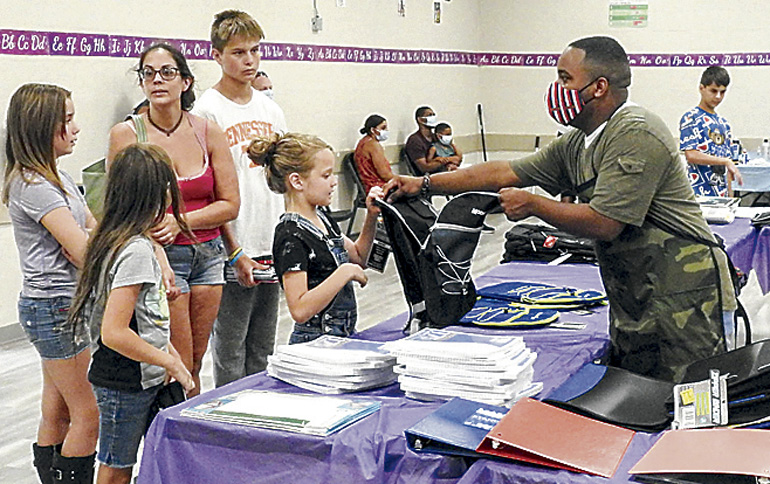 HIGH SPRINGS ‒ Aug. 9 at 4 p.m., a line of parents and children formed outside the doors of the High Springs Civic Center as the community came together to help students start the school year off right. For financially struggling families outfitting their children for the school year with clothes, backpacks and school supplies can be an added burden on an already stretched budget.
The need became even more dire during the pandemic when many families lost jobs and their source of income with it, forcing them to make tough choices between necessities like rent, food and utilities over school clothes, new backpacks and supplies and even haircuts. Poetic Cuts barbershop owner Arthur Miller decided to do something about it.
Miller's roots are deep in the community and he believes in helping those in need. He opened his barbershop in June 2020 in the same location as Otto Duncan, the first African American licensed barber in the area. Miller's parents ministered at a church in High Springs until moving to Gainesville to open the Spirit of Excellence church and Miller holds services in High Springs at the old school house /history museum.
As Miller was growing up, there was a yearly program run by the owner of Lee's Preschool. Several churches held similar events to help provide school supplies to students. Miller knew he wanted to do something similar for the community, especially after the hardship of the pandemic, but he also knew that the project would require more people and coordination than he could do alone.
Miller approached High Springs Chamber of Commerce President Sharon Decker about working together. "We want the Chamber to support the community we live in just like they support our local businesses, and we are now placing a larger effort in doing events to help the community, especially those in need," Decker said. "We were able to get a grant from Wal-Mart to buy supplies and they donated materials that were being replaced with newer items. We also collected donations of clothes to give the kids new outfits."
Miller enlisted the help of his family and church members to staff the event and even served up hot dogs and burgers. He also recruited the help of three fellow barbers to offer free haircuts for the students. With an eye on the pandemic, Miller was able to procure COVID rapid testing on site. Gainesville's PCS CEO LaToya Dawson provided a mobile lab offering COVID-19 testing with results in 10 minutes.
The event was advertised throughout the community and over 300 families showed up to get school supplies, clothes, lunch and haircuts. The line moved steadily in, as they limited the number of people to avoid overcrowding. A long line formed for the haircuts, and outside the building, PCS set up a tent to do rapid COVID testing where families could drive up and park and 10 minutes later have the results.
The High Springs chamber is planning another event giveaway on Aug. 21 at the Farmers Pavilion near the chamber offices. Decker says the chamber is working with Wal-Mart for a giveaway of household items and clothing. "This is only for charity to help those in need, not resale, so all items are coded to identify them as donations and can't be resold or returned to the store for cash," said Decker. The event starts at 10 a.m. Additional information is available by calling the chamber office at 386-454-3120 or by email at chamber@highsprings.com.
"It's all about working together to help the community we live in," Decker said.
# # #
Email rcarson@
alachuatoday.com
Add a comment