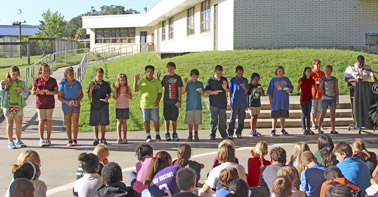 ALACHUA – John Maloney watched from the audience as his stepdaughter, Kaylee Mines, followed in his footsteps and took the pledge.
Kaylee, a fifth-grader at Alachua Elementary, was one of almost 30 students to become a part of the safety patrol in Alachua during a ceremony, which took place at 9 a.m. on Friday, Sept. 20 at Alachua Elementary School. The students were called up in three groups and took the pledge to honor and uphold the responsibility given to them through this title.
The newest wave of safety patrols was sworn in by Joel DeCoursey Jr., chief of police at the Alachua Police Department.
"She has wanted this for over a year now, and it's really something that makes her mother and I very proud," Maloney said.
The main goal of the program is to maintain order in the school as much as a student can, DeCoursey said. There is a reason these kids were chosen and placing this kind of trust in them is only going to help them to grow, he added.
The young students pledged: "I promise to do my best to report for duty on time, perform my duties faithfully, strive to prevent accidents, always set a good example, obey my teachers and officers of the patrol, report dangerous student practices and strive to earn the respect of fellow students."
It was really something special for Maloney to experience watching Kaylee become part of the safety patrol, just as he had done when he was in school, he said.
Alachua County has been a part of the program for over 35 years, DeCoursey said. It is a country-wide program as well, he added, and it acts as a reward for fifth-grade students who can meet the standard.
Kelly Maloney, Kaylee's mother, was proud her daughter has been able to meet that standard and has a desire to help others.
"I know that they only pick the best students to receive this title," she said, "and it will be great for teaching her how to handle this type of responsibility."
Christine McCall was another mother on hand at the ceremony where her daughter, Allison McCall, also joined the patrol.
To be selected, a student has to have good grades, act in a mature manner and do the right thing, McCall said. This will be something that teaches her to behave well when other people look up to her, she said.
Each student is assigned a post, and they ensure that the safety rules of the school are upheld in that area, said Eva Copeland, principal of Alachua Elementary.
One of the posts a student could receive is the car-pickup area. This is the zone where parents can get their children after school. A safety patrol would be responsible for making sure that each student got to his or her car safely at this post, but they would probably not open doors or load students, Copeland said.
DeCoursey has been involved with the program in the city for over 20 years and he has seen it be a tremendous help for some students. It gives them a sense of pride in something. They all had to work for this and seeing that work culminate in this reward really means something, he said.
There is an additional reward for the children. At the end of the year they will be going on a trip to Washington D.C. as a part of the program. About 1,300 students from around the county take the trip every year. It's basically a bonus for them, DeCoursey said.
Most of them don't really care that it is Washington D.C., they just enjoy the excitement of going on a trip, he said.
# # #
Email ahart@
alachuatoday.com
Add a comment