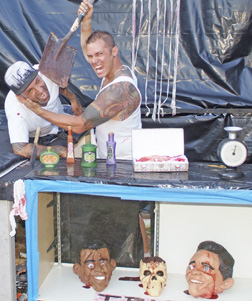 L-R: Richard Piz and Eric Shupe are setting the stage for thrills and chills as they put the finishing touches on a haunted house in High Springs.
HIGH SPRINGS – Looking for a real Halloween scare? The answer may lie within a 2800-sq. ft. adult-style haunted house, with rooms awash with zombies, werewolves, scary clowns, a nasty-looking butcher and an assortment of foul bugs. The seasonal haunted house has been erected by Eric Shupe, of AllStar Tattoo and The Art of Spinning with Eric in High Springs.
Located at 625 NW Santa Fe Boulevard/US Highway 441, which is next to High Springs Diner, the five-room house and three dark hallway mazes were built by Shupe with donations from Lowe's in Alachua.
Shupe and Richard Piz, also from AllStar Tattoo, got the idea of the haunted house as a fundraiser after hearing the High Springs Police Department was in need of money for renovations as part of the city's effort to bring the police dispatch center back to High Springs.
"This is our first year doing a project like this," said Shupe. He and Piz saw a need for the money plus a desire on the part of the older kids to find something constructive and fun to do around the Halloween season.
The haunted house will be open from 8-11 p.m. on Thursdays and Fridays, Oct. 12-13, 19-20, 26-27 with a Grand Haunt on Oct. 31. The cost is $7 for adults and $5 for children age 10 and under if accompanied by a parent.
"Some of these rooms are really scary," said Shupe, who says they have a sign up indicating young children should not be allowed to go through the house and maze alone.
"Free face painting and free stick-on tattoos will be available to younger children," Shupe said. "Just because they may not want to go through the house, doesn't mean they shouldn't be included, too," he said with a chuckle.
The Halloween night Grand Haunt will include a display of various old hotrods and "Munster-type" cars. In addition, area artists who have made their own sculptures, paintings and jewelry will set up to show and sell their handmade items when the house is open to the public.
"We saw this as an opportunity to promote our own local artists," said Shupe. "If they made it themselves, they can sell it. We hope to expand this opportunity next year," he explained. The cost to the artist is $20 per weekend.
Shupe explained that he and Piz currently have at least 50 volunteers such as parents and students from Santa Fe High School, P.K. Yonge, Ft. White and other area schools, who also wanted to participate in the fundraising event.
Students will be earning community service hours for their efforts. "Parents get the enjoyment of participating in this project with their kids," said Schupe. "And it's fun," he said.
In addition to Lowe's contribution to the project, "Chris from Alachua Pawn & Gun has been terrific," Shupe said. "Richardson Paint of Lake City, generously donated paint for the project as well."
"Other area businesses have put up our posters and given handouts to the public to help publicize the event," he explained. Among those are Spring Diner, Bealls Outlet, Advanced Auto Parts, Kangaroo, Great Outdoors Trading Post & Restaurant and the Halloween Mega Store in Butler Plaza, Gainesville.
All funds will benefit renovations for the police department and will be given to High Springs Police Chief Steve Holley, explained Shupe.
# # #
Email Cwalker@alachuatoday.com
Add a comment