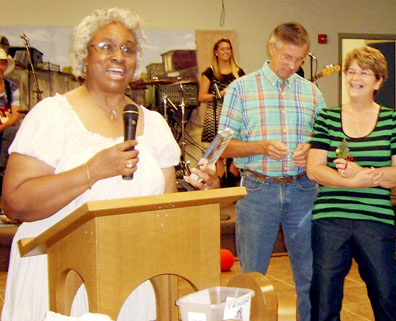 High Springs Chamber of Commerce Citizen of the Year Gloria James said it was a surprise and an honor to receive the award.
HIGH SPRINGS – The High Springs Chamber of Commerce honored Gloria James as Citizen of the Year for her work in several different clubs, area groups and organizations. She is a long-time resident of the city with a long family history in the community.
James is Chair of the High Springs Planning Board, President of AARP, Assistant Election Clerk, High Springs Senior Citizen Gathering Secretary, and member of the High Springs Chamber, the Community Development Board and the Mebane Alumni Association. She is also Missionary Vice President of Allen Chapel Church and a substitute teacher for the Alachua County School Board. Her uncle, a member of the Davis family, was the first African American conductor for the railroad in High Springs and her family shared their family history as the 2012 Pioneer Family during Pioneer Days.
Other nominees were Suzie Ann Clark, Barbara Martin and Donna and Henry Mogler, all of whom have significantly contributed to the city as well, said Chamber President Sandra Webb. "It is difficult to choose just one person to be Citizen of the Year when so many people do so much for this community," said Webb.
The award was presented during the High Springs Chamber of Commerce Banquet held Friday, July 19, 2013, at the Family Life Center, St. Madeleine Catholic Church on U.S. Hwy. 441 in High Springs.
Newly elected chamber board members were also introduced during the banquet. Members include Sandra Webb, president; Scott Thomason, vice president; Barbara Martin, treasurer; Vondla Sullivan, secretary; Eyvonne Andrews, economics; Dot Harvey, communication; Betsy Thomason, events manager; Carol Doherty, membership; Donna Mogler, past president; and Tom Weller, past-past president.
With the theme of the "Wild, Wild West," more than 130 chamber members and their families were treated to a banquet of pulled pork, fried fish, barbecued chicken, potato salad and beans prepared on site by Scott Thomason of the Santa Fe Elks Club. Chamber member Dot Harvey prepared an amazing array of desserts including cobblers of all kinds and three different types of brownies, along with delectable cowboy beans.
The Great Outdoors Restaurant donated beverages, salad and rolls and brought along one of their professional bartenders and Head Chef Carol Doherty to make sure everyone had their perfect drink of choice and excellent food and service.
Tim and Robin True received an award for the best wild west-themed costumes of the night and Natalie Nicole Green and The Little Bit More Band entertained during the evening with perfect harmonies and great music.
Webb said she was pleased with the turnout and presented dozens of door prizes during the night with the help of Barbara Martin. "We had a great team to put on this event," said Webb. "All our board members and volunteers helped tremendously," she said. "I especially want to thank Barbara Martin and Jim Bryant for going above and beyond for signs, decorations, etc. and St. Madeleine's Catholic Church for letting the chamber use their facilities for our event."
# # #
Email Cwalker@
alachuatoday.com
Add a comment