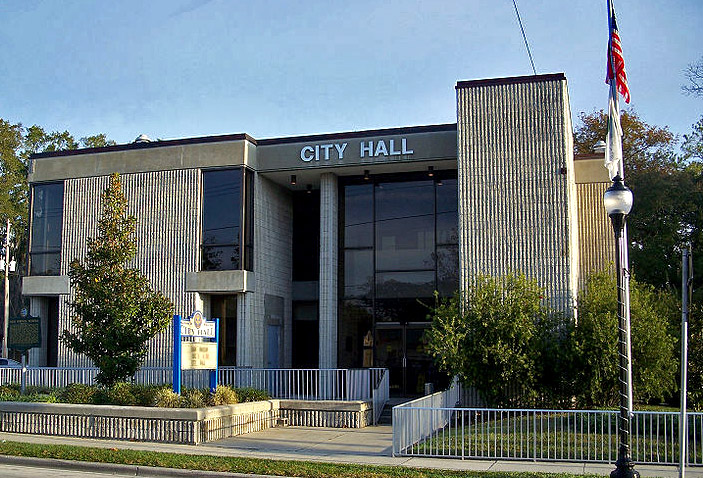 HIGH SPRINGS ‒ The City of High Springs Police Department (HSPD) will be modernizing equipment thanks to American Rescue Plan Act (ARPA) funds. The City Commission on April 13 authorized $35,000 to provide HSPD with fully-equipped rifles and tasers. The department's existing rifles are Vietnam era and owned by the federal government's 10-33 program. Police Chief Antoine Sheppard said that upgraded or more modernized equipment is needed to rapidly deploy to severe crimes or armed disturbances. "Handguns are inadequate for these types of situations," he said. In addition, the majority of City tasers have also depleted their shelf life. Rifles will cost $21,000 for 20, and tasers will cost $14,000 to replace. The City will return the antiquated rifles to the federal government once the new equipment is received.
In other business, the Commission approved submission of a Community Development Block Grant (CDBG) application for a stormwater project. The Citizens Advisory Task Force (CATF) committee met prior to the Commission meeting to consider the issue. Grant categories included Housing Rehabilitation, Commercial Revitalization or Neighborhood Rehabilitation. Grant writer David Foster of Fred Fox Enterprises was present at the meeting and said the City could only apply for one. The CATF selected Neighborhood Rehabilitation and discussed project topics within that category including water lines and drainage issues.
During the Commission meeting, Foster addressed the CATF's suggestions in a CDBG public hearing. As the deadline for the $700,000 CDBG application is May 5, Assistant City Manager Bruce Gillingham said that a Low- to Moderate-Income (LMI) study, something that would help the grant application to be considered, had already been done in an area where the City has received several complaints regarding lack of water drainage. Because of the close deadline, this project idea was considered as opposed to a project having to do with water lines.
A significant amount of discussion regarding the CATF's suggestion about water lines ensued. If the Commission were to pursue a more complex water line project, an LMI study would have to be conducted, they could pass on this CDBG submittal date and submit a grant request after more work was completed by the engineers and the LMI study was conducted.
Ultimately, the Commissions voted to pursue the stormwater project grant and review their suggestion with the CATF members at the next meeting on May 4 at 5:30 p.m.
In other City business, the Commission approved an ordinance governing the operation of golf carts on designated city streets. Gillingham said the ordinance was similar to one that had been recently passed by the City of Newberry. The ordinance limits golf cart top speed to 20 mph. Carts are not allowed on Northwest 74th Avenue, U.S. Highway 27, U.S. Highway 27 ALT, Northwest 186th Avenue, Northwest 182nd Street, Northwest 190th Avenue and Northwest 202nd Street.
Although the ordinance closely follows state regulations, there was debate about the age of the driver. State regulations call for a minimum age of 14, while the ordinance lists operators must be 15 years of age or older. Commissioner Katherine Weitz pushed for a 16-year minimum age for operators with a driver's license, but she was ultimately outvoted 4 to 1. Other regulations are included in the ordinance regarding equipment.
Chief Sheppard said that the legislature is considering regulations on All Terrain Vehicles (ATVs) and Utility Task Vehicles (UTVs), which should be forthcoming. This ordinance does not address those types of vehicles.
The Commission unanimously approved a change to the Blue Gem Site Plan, which had been originally approved on Feb. 23. Once construction was underway, the applicant ran into an issue with concrete from the pool that existed prior. To avoid the expensive removal of the concrete, the applicant asked to amend the size of the pole barn from 30 x 48 feet to 40 x 40 feet. The project is located at 19544 N.W. U.S. Highway 441.
In other business, an update on the redevelopment site plan for Palms Medical Group (formerly Fellowship Church), located at 16916 NW U.S. Highway 441 was given by CHW Project Manager Mitchell Mason. The access road is being improved and additional parking and landscaping has been added. Improvements to the building will include new paint, new doors and roof repairs. Detailed plans and an artist's rendition of the completed facility were enough to obtain unanimous approval.
The Commission gave unanimous approval for People's Choice Storage site plan on behalf of Tricore Investment Group, Altamonte Springs. The site is located at 26020 W. U.S. Highway 27. Although the site plan was approved, Commissioner Ross Ambrose brought up the Conditional Use Plan, which specified Dark Night lighting. Ambrose pointed out that the owner had previously indicated he would work with the City regarding the lighting issue.
A contract for WastePro will be presented at the next Commission meeting. The Alachua-based company will begin serving High Springs on May 1. They will provide waste and recycling rolling containers for residential customers and are expected to be collecting waste in the city Monday – Thursday with yard waste collection on Wednesday and recycling waste collection on Fridays. A complete waste/recycling program will be featured on the City's web site along with a short film.
Upcoming meetings include a special City/County Commission Meeting on Thursday, April 20 in High Springs and a Strategic Planning Meeting is scheduled for 5:30 p.m., May 23. The Utility District ordinance (Ordinance 2023-02) will be included on the May 25 agenda.
# # #
Email cwalker@
alachuatoday.com
Add a comment