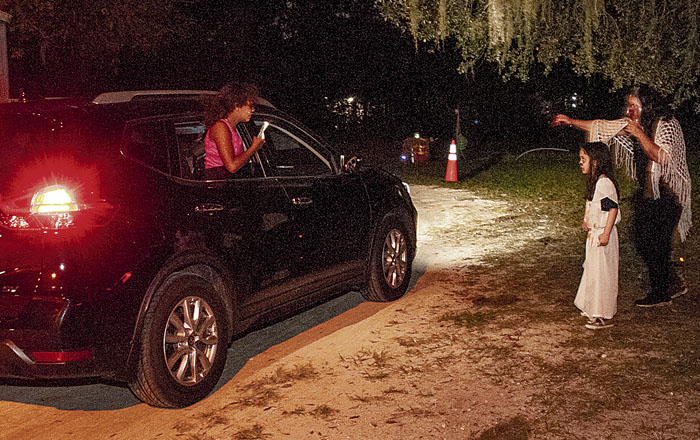 NEWBERRY ‒ Every Halloween organizations create haunted houses for thrill seekers to be confronted with ghouls, zombies, witches and various types of mayhem. Haunted houses usually take the form of a maze in a darkened building with multiple scenes and characters to frighten people as they wander through. Some haunted houses are commercial ventures, but many local ones are held by charity organizations to raise money for various causes, and it is a popular pastime and for many families it has become a tradition. But in 2020, traditional Halloween haunted houses have been put on hold due to the COVID-19 Pandemic and need to social distance in enclosed spaces, especially darkened buildings where people may be disorientated.
This year the Newberry American Legion Post 149 switched up the familiar haunted house format to raise money for Veterans Programs and put together an outdoor haunted house for cars to drive through, maintaining a safe distance and following guidelines. According to Legion member Bob Watson, while the post hosted the event and built all the scenes, they had support from other organizations as well. Eight sponsors provided funding for candy, supplies and construction material. Volunteers helped with the construction, which took about 1,000 hours over a month. Volunteers also became some of the actors, including children and teens, including five students from Buchholz High School. The Youth Marine Corps also had 10 members volunteer as well.
Each vehicle took 10-15 minutes along Horror Road to slowly circle around the Legion's building, stopping at multiple fright-inducing scenes. Greeting each vehicle was a cemetery complete with skeletons, a demon and a long dead pirate. Then the frightening journey confronted Beetle Juice as the actor ambushed each car. Across the road was a guillotine with its victim holding her bloody head in her lap, as a mother and daughter zombie team came at the car from the other side. More child zombies approached as the car slowly proceeded, only to be stopped by a traffic cone and a witch in the middle of the road. As the witch cackled at the car to get the occupants' attention, a giant red-eyed spider dropped on their car from above. Then it was on to a blood-soaked prom queen, finally to be stopped by victims of a car accident who were texting while driving as two of them lay on a tarp with multiple wounds.
Over the weekend 190 cars drove down Horror Road. Watson estimates that included 400 kids. "Some people came both nights and we had one family visiting from Japan that came through," Watson said. "Altogether we raised $1,600 for Military Vets Programs that the American Legion supports in the area".
Watson added, "We got a lot of compliments on the show, and we were glad to provide some Halloween entertainment for the kids and keep the tradition alive."
# #
Add a comment