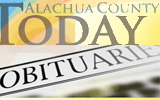 Gregory Bernard Epps, 47, of Lake City, Fla., passed on Saturday, April 28, 2012. He was a member of Elizabeth Missionary Church, Ocala and a 1982 graduate of Columbia High School, Lake City. He was self employed with the family logging business.
Gregory is survived by his parents, Freddie and Margaret Epps of High Springs; four sisters, Roaslie (Emory) Jones of Lake City; Mary (Rick) Muhammad of Atlanta, Ga.; Charlene (Charles) Patterson of Newberry, and Angel (Alfred) Seymour of High Springs; two brothers, Victor and Marvin Epps, both of High Springs, aunts and uncles and a host of nieces, nephews, cousins, extended family and close friends.
Funeral service will be held on Saturday, May 5, 2012 at 3 p.m. at Galilee Missionary Baptist Church, Lake City, Rev. Joe Thomas, Pastor Herman Epps, Eulogist. Visitation will be on Friday from 6-8 p.m. at the funeral home.
Arrangements entrusted to A. Jerome Brown Funeral Home 1560 NW 1st Avenue, High Springs, Fla.
Add a comment