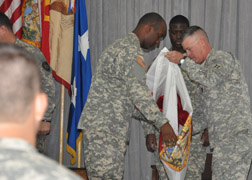 Sgt. 1st Class Corey Walker (left) and Command Sgt. Maj. Robert Hosford fold a Florida flag that was presented to the 1153rd Finance Management Company to fly in Iraq. The unit will be headed to Fort McCoy, Wis., this week for additional training prior to deploying to Iraq.
Approximately 25 Soldiers from the Florida National Guard's 1153rd Finance Management Detachment were honored during a ceremony in St. Augustine, Nov. 10, 2010, prior to departing for their deployment to Iraq. The unit will provide financial assistance for Soldiers at forward operating bases near Baghdad, Iraq. For most of the Soldiers, this will be their first deployment overseas "We have a real young unit," said Sgt. 1st Class Corey Walker, the senior enlisted member of the detachment. "For a lot of people, this will be their first time going, but we're leaning on our veterans to push us through." To prepare for the deployment, the Soldiers spent months conducting additional pre-mobilization training. The Soldiers will leave at the end of the week for additional training at Fort McCoy, Wis., prior to arriving in Iraq.
"We've gone through months of rigorous basic Soldiering training," said Walker. "We also went through extensive finance training to hone our finance skills at Fort McCoy, Wisconsin." Family support was emphasized throughout the ceremony, with leaders at each level reassuring the families present that the Florida National Guard is committed to helping them while their Soldier is away.
"What I want you to remember is, the Florida National Guard is a family," said Lt. Col. Paul Chauncey, the commander of the 927th Combat Service Support Battalion. "We understand that it takes the strength of each and every one of you sitting out in this audience for these Soldiers to do their job."
"We recognize your sacrifice," Maj. Gen. Emmett R. Titshaw, The Adjutant General of Florida said to the families. "You are so much a part of what we do. We are there for you while your Soldier is gone. Please remember, we are only a phone call away."
At the unit level, a family support group is in place to provide support to families throughout the deployment. The group has held numerous events prior to the deployment to ensure that the families know each other and they know how to get in contact with each other if they have any issues. The unit leadership expressed confidence in their Soldiers' training and their ability to accomplish the mission safely and effectively.
"We're real confident," said Walker. "We're sure we're going to go over there and do a good job and come back safe."
Add a comment