Hunter Marine bought out after filing bankruptcy

Hunter Marine will have all six of its production lines running for the first time since 2009. The Alachua production facility will produce Hunter sailboats, Mainship trawlers and Gemini catamarans

ALACHUA – After a crisis, the workers of Hunter Marine are being offered the freedom of starting over.

Like most American businesses, the Alachua-based sailboat manufacturer suffered during the economic downturn in the fall of 2008. On April 30, Morgan Industries, the parent company of Hunter Marine and other boat manufacturers, filed for Chapter 11 bankruptcy.

On July 11, the U.S. Bankruptcy Court in the District of New Jersey approved the sale of Hunter Marine to Marlow Acquisitions, an affiliate of worldwide boat manufacturer Marlow Marine.

For John Peterson, Hunter Marine president and chief restructuring officer, the financial struggles of the past three years have provided opportunities for strategic development which he hopes to expand further under new ownership.

"We learned a lesson during the recession," Peterson said. "We learned a lesson on how to survive."

Being bought out may not sound like surviving, but Peterson said the situation befell Hunter largely due to their contractual obligation to financially aid other companies in the Morgan Industries family.

According to Peterson, dealers of Hunter sailboats and other Morgan Industries products used their retail inventory as collateral for loans from General Electric and a few smaller lenders, loans to be repaid once the inventory was purchased.

This common retail practice was disrupted when the recession decreased the American demand for high-end sailboats. Decreased sales revenue meant less money to repay the loans, and when a Morgan-owned powerboat manufacturer folded, Hunter was required to pay the General Electric bills for them.

Peterson said without this hindrance, Hunter could have made it through the recession without being bought out, citing the company's timely repaying of its loans to Bank of America during its eight weeks of bankruptcy, as support.

However, Peterson also said that the added burden taught the Hunter team how to manage in sparse conditions, skills he said will come in handy with the added boost from Marlow Marine.

"Once we get some capital infusion from Marlow and we start putting out some new Hunter models, we'll begin to see some growth again," Peterson said.

Growth would not be a new phenomenon for Hunter Marine, which has steadily come back following the bankruptcy filing. Hunter, which in its pre-recession years once employed 435 people, had a total payroll of 31 employees on May 1. That number has increased to 77, and Peterson is confident that the comeback will continue.

"Everyone we furloughed has been brought back on," Peterson said. "We're hoping that in the next few months, most of the people we had to let go will have jobs again."

Peterson, who became president of Hunter Marine three years ago when the previous president resigned after the recession hit, said the company will streamline its production and integrate it with products from Marlow and Mainship, a former Morgan Industries company that Marlow partially acquired in its purchase.

The company will have all six of its production lines running for the first time since the downturn, three of them having been dormant since 2009. The lines will produce Hunter sailboats, Mainship trawlers and Gemini catamarans, which are not sold by Hunter or any Marlow company, but which will bring increased production revenue for Hunter.

Hunter has whittled its product line down to 14 models from the previous 17. Three Mainship trawlers will now round out the new inventory.

Peterson understands the importance of personal relationships in business and hopes to strengthen Hunter Marine's bond with its home city in the future.

"The company has been always seemed a bit standoffish from Alachua," Peterson said. "That's not my style, I'm more community oriented."

Just as many Alachua residents have relied on Hunter Marine in past years, Peterson hopes to have the support of his employees and his community in the rebuilding months.

"We're attempting to do the best we can for our employees," Peterson said. "I think they understand the predicament we're in. They're good people, and they've just been caught in the wrong spot at the wrong time."

# # #

Email delsesser@alachuatoday.com
Hunter Marine bought out after filing bankruptcy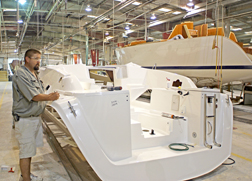 Hunter Marine will have all six of its production lines running for the first time since 2009. The Alachua production facility will produce Hunter sailboats, Mainship trawlers and Gemini catamarans
ALACHUA – After a crisis, the workers of Hunter Marine are being offered the freedom of starting over.
Like most American businesses, the Alachua-based sailboat manufacturer suffered during the economic downturn in the fall of 2008. On April 30, Morgan Industries, the parent company of Hunter Marine and other boat manufacturers, filed for Chapter 11 bankruptcy.
On July 11, the U.S. Bankruptcy Court in the District of New Jersey approved the sale of Hunter Marine to Marlow Acquisitions, an affiliate of worldwide boat manufacturer Marlow Marine.
For John Peterson, Hunter Marine president and chief restructuring officer, the financial struggles of the past three years have provided opportunities for strategic development which he hopes to expand further under new ownership.
"We learned a lesson during the recession," Peterson said. "We learned a lesson on how to survive."
Being bought out may not sound like surviving, but Peterson said the situation befell Hunter largely due to their contractual obligation to financially aid other companies in the Morgan Industries family.
According to Peterson, dealers of Hunter sailboats and other Morgan Industries products used their retail inventory as collateral for loans from General Electric and a few smaller lenders, loans to be repaid once the inventory was purchased.
This common retail practice was disrupted when the recession decreased the American demand for high-end sailboats. Decreased sales revenue meant less money to repay the loans, and when a Morgan-owned powerboat manufacturer folded, Hunter was required to pay the General Electric bills for them.
Peterson said without this hindrance, Hunter could have made it through the recession without being bought out, citing the company's timely repaying of its loans to Bank of America during its eight weeks of bankruptcy, as support.
However, Peterson also said that the added burden taught the Hunter team how to manage in sparse conditions, skills he said will come in handy with the added boost from Marlow Marine.
"Once we get some capital infusion from Marlow and we start putting out some new Hunter models, we'll begin to see some growth again," Peterson said.
Growth would not be a new phenomenon for Hunter Marine, which has steadily come back following the bankruptcy filing. Hunter, which in its pre-recession years once employed 435 people, had a total payroll of 31 employees on May 1. That number has increased to 77, and Peterson is confident that the comeback will continue.
"Everyone we furloughed has been brought back on," Peterson said. "We're hoping that in the next few months, most of the people we had to let go will have jobs again."
Peterson, who became president of Hunter Marine three years ago when the previous president resigned after the recession hit, said the company will streamline its production and integrate it with products from Marlow and Mainship, a former Morgan Industries company that Marlow partially acquired in its purchase.
The company will have all six of its production lines running for the first time since the downturn, three of them having been dormant since 2009. The lines will produce Hunter sailboats, Mainship trawlers and Gemini catamarans, which are not sold by Hunter or any Marlow company, but which will bring increased production revenue for Hunter.
Hunter has whittled its product line down to 14 models from the previous 17. Three Mainship trawlers will now round out the new inventory.
Peterson understands the importance of personal relationships in business and hopes to strengthen Hunter Marine's bond with its home city in the future.
"The company has been always seemed a bit standoffish from Alachua," Peterson said. "That's not my style, I'm more community oriented."
Just as many Alachua residents have relied on Hunter Marine in past years, Peterson hopes to have the support of his employees and his community in the rebuilding months.
"We're attempting to do the best we can for our employees," Peterson said. "I think they understand the predicament we're in. They're good people, and they've just been caught in the wrong spot at the wrong time."
# # #
Email This email address is being protected from spambots. You need JavaScript enabled to view it.