Babe Ruth Softball World Series begins Saturday

Area residents turned out for a community pep rally on the steps of Alachua City Hall in honor of the local Santa Fe team, which will be competing in the 2012 Babe Ruth Softball World Series. Each girl was presented with a key to the city by Alachua Mayor Gib Coerper.

ALACHUA – For Alachua, the Bambino brings not a curse, but a blessing.

The 2012 Babe Ruth Softball World Series begins Saturday, Aug. 4, bringing 20 teams of girls 12 and under from around the country to compete at the Hal Brady Recreation Complex.

Hal Brady, City of Alachua Recreation Director, expects the tournament to give Alachua an economic boost.

"Without a doubt the tournament will bring money to the city," Brady said. "Many of the families are already in town and are staying in eight to ten of the hotels in Alachua and Gainesville."

Brady estimated the tournament would bring about $1 million to Alachua businesses. He also estimated that the tournament costs the city about $100,000 to put on, including $45,000 to Babe Ruth Softball for the right to host the tournament.

Much of the costs were paid for by corporate sponsors such as Wal-Mart and Dollar General as well as by donations from both the City of Alachua and the Alachua Chamber of Commerce.

Teams gained entry to the tournament either by winning a regional championship (as eight teams did), winning the Northern Florida state championship (as the team from Oviedo did), or by earning an invitation based on their ranking and performance in qualifying games. The host team, in this case Santa Fe, also received an automatic bid.

Teams from California, Louisiana, Washington and Tennessee among others will compete in the tournament, the largest in the history of the Babe Ruth Softball World Series.

Brady noted that putting on the tournament is a community effort, and that the tournament's success will be due in large part to the time commitment of many Alachua residents.

"There are hundreds of volunteers who worked on the project who got paid absolutely nothing," Brady said. "It really takes everybody to do it."

# # #

Email delsesser@alachuatoday.com
Babe Ruth Softball World Series begins Saturday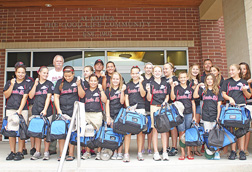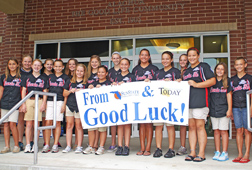 Area residents turned out for a community pep rally on the steps of Alachua City Hall in honor of the local Santa Fe team, which will be competing in the 2012 Babe Ruth Softball World Series. Each girl was presented with a key to the city by Alachua Mayor Gib Coerper.
ALACHUA – For Alachua, the Bambino brings not a curse, but a blessing.
The 2012 Babe Ruth Softball World Series begins Saturday, Aug. 4, bringing 20 teams of girls 12 and under from around the country to compete at the Hal Brady Recreation Complex.
Hal Brady, City of Alachua Recreation Director, expects the tournament to give Alachua an economic boost.
"Without a doubt the tournament will bring money to the city," Brady said. "Many of the families are already in town and are staying in eight to ten of the hotels in Alachua and Gainesville."
Brady estimated the tournament would bring about $1 million to Alachua businesses. He also estimated that the tournament costs the city about $100,000 to put on, including $45,000 to Babe Ruth Softball for the right to host the tournament.
Much of the costs were paid for by corporate sponsors such as Wal-Mart and Dollar General as well as by donations from both the City of Alachua and the Alachua Chamber of Commerce.
Teams gained entry to the tournament either by winning a regional championship (as eight teams did), winning the Northern Florida state championship (as the team from Oviedo did), or by earning an invitation based on their ranking and performance in qualifying games. The host team, in this case Santa Fe, also received an automatic bid.
Teams from California, Louisiana, Washington and Tennessee among others will compete in the tournament, the largest in the history of the Babe Ruth Softball World Series.
Brady noted that putting on the tournament is a community effort, and that the tournament's success will be due in large part to the time commitment of many Alachua residents.
"There are hundreds of volunteers who worked on the project who got paid absolutely nothing," Brady said. "It really takes everybody to do it."
# # #
Email This email address is being protected from spambots. You need JavaScript enabled to view it.