All three will face challengers in November election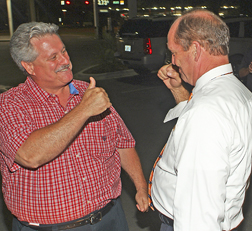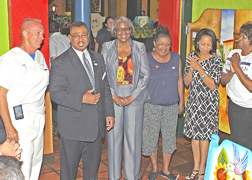 Photo 1 L-R: John Martin, winner of the republican primary for Alachua County Commision District 1 seat and Ted Yoho, winner of the republican primary for U.S. House of Representatives District 3 race congratulate each other on their victories Tuesday evening. Photo 1: Clovis Watson Jr. (center) thanks key supporters during a victory celebration after he won the democratic primary for Florida State House District 20.
GAINESVILLE – Tuesday brought surprises and victories for some candidates running in the Aug. 14 primary election.
Alachua native and former Alachua City Manager Clovis Watson Jr. won his primary bid for the State House District 20 seat. Watson garnered 58.45 percent of the ballots with a total of 6,438 votes. Opponent Marihelen Wheeler brought in 4,576 votes in the district.
Watson will appear on the ballot in the general election as he is challenged by a write-in candidate.
Still Watson was joined by supporters at a victory party Tuesday evening as election results poured in. Watson was met by a standing-room only crowd at Las Margaritas on NW 39th Avenue in Gainesville. A jubilant Watson thanked his supporters for their efforts and called the win a victory for the people of District 20.
"I am very excited and honored to carry the message of the people to Tallahassee," Watson said, adding, "I'm going to work hard for the people, even those who did not vote for me."
Watson has been a lifelong resident of the city of Alachua, having grown up in the Merrillwood housing projects. He became a police officer on the City of Alachua police force, rising through the ranks to become Deputy Chief of the department. He was later tapped by the commission to serve as City Manager, a role he filled from 2002-2009.
Watson and Wheeler are both democrats and sought election to a district that before being redrawn was District 23 and represented by Charles Chestnut IV. Chestnut (Dem.) did not seek re-election to the Florida House of Representatives, opting instead to run for the Alachua County Commission District 5. During the general election in November, he will face off against Dean Cheshire (Rep.) and K. Siva Prasad (NPA).
Resident and former commissioner and mayor of Hawthorne, John Martin (Rep.) prevailed in a three-way republican primary race for the County Commission District 1 seat, which included Brandon Kutner and Kevin Riordan. Martin picked up 42.48 percent of the votes to clinch his spot on the general election ballot. Kutner and Riordan received 29.37 percent and 28.13 percent respectively.
Martin will face Mike Byerly, who won in the democrat primary race against Roberta Lopez. Lopez, a longtime resident and former commissioner in the City of Archer picked up 8,122 votes, but it wasn't enough to beat out Byerly's 11,203 votes.
Following the results Tuesday evening, Riordan and Kutner both threw their support behind Martin in the race he now faces against Byerly in the general election.
"We all need to rally together because we're going to need all the support we can get if we're going to beat a 12-year incumbent," Martin said of Byerly Tuesday night at a victory party at The Pickled Pelican in Jonesville.
With 11,135 votes, Robert Hutchinson won against Ken Cornell, 8,125 votes, for a democrat primary race for the Alachua County Commission District 3 seat. That will pit Hutchinson against longtime Alachua resident and former Alachua mayor and commissioner Jean Calderwood (Rep.) during the general election. Calderwood did not have a republican opponent in the primary.
In a major upset, political newcomer Ted Yoho emerged as the winner, beating out longtime U.S. House Representative Cliff Stearns. Yoho and Stearns were in a four-way republican primary race for United States House District 3 seat, which was redrawn following the most recent census. Stearns, a 24-year veteran of the House conceded the race to Yoho Wednesday morning.
Yoho, with 21,899 votes, edged out Stearns who garnered 21,068 votes. Also in the same race were Florida State Senator Steve Oelrich and James Jett, who picked up 12,017 votes and 8,710 votes respectively.
Yoho was greeted by hundreds of supporters at The Pickled Pelican in Jonesville. As Yoho arrived, the crowed poured out into the parking lot where the victorious candidate was congratulated by family, friends and supporters. Yoho will face J.R. Gaillot (Dem.) during the general election
In other races, Alachua County School Board candidates Leanetta McNealy, 12,479 votes, and Barbara Sharpe, 10,850 votes, will be in a runoff in the November general election. Jodi Wood, with 8,865 votes, came in third in that race.
Alachua County Property Appraiser Ed Crapo, with 13,616 votes, defeated opponent Alonzo V. Perkins who picked up 5,615 votes. Crapo will face a write-in candidate in the general election.
Florida State House District 21 candidate Andrew Morey, with 5,285 votes, beat fellow-democrat Aaron Bosshardt who received 4,925 votes. Morey will face Keith Perry (Rep.) for the seat in the general election.
# # #
Email editor@alachuatoday.com
Add a comment