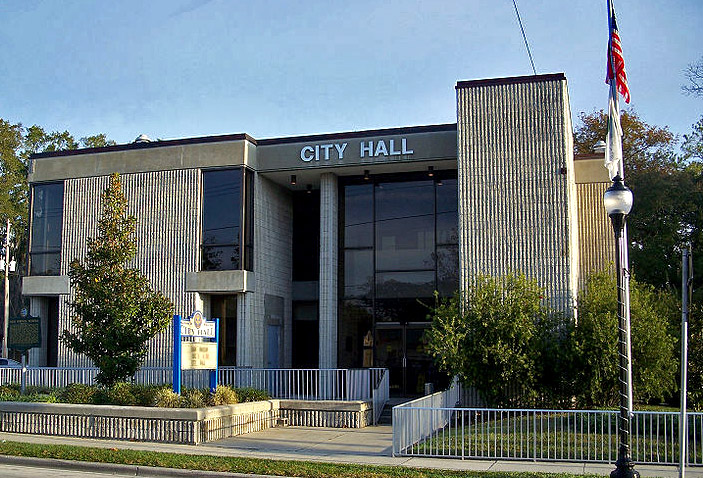 HIGH SPRINGS – Opponents of the controversial mural project in High Springs spoke at the May 12 High Springs City Commission meeting to express their concerns about the pending project and related ordinance. Earlier in the week on May 9, a private meeting was held to discuss ways they could make sure City Commissioners were aware that the group objected to allowing murals in the city.
At the commission meeting, Wallace Simmons, Lance Verner, Deborah Simone, Janet Evans, and John Sterpe expressed their viewpoints, which included admonitions for the City to use the City of New Smyrna Beach's guidelines for a mural ordinance and asking for guidelines on who would be responsible for maintenance of murals already in existence. Individuals also asked Commissioners not to allow murals or Walldogs to "desecrate our historic buildings," and not allow the "enemy coming from outside High Springs" to paint murals.
Concern was also raised that Commissioner Ross Ambrose should recuse himself from voting on a mural ordinance because he is also on the Heart of High Springs board.
Heart of High Springs President Nancy Lavin phoned in to update everyone on projects and issues relating to the group. She said they would make sure everyone abides by historic preservation principles and that the group has raised money for replacement of the four "Entrance to High Springs" signs. "We are working with the downtown merchants in their Artwalk program and started a program to allow students looking for Bright Futures hours to work with their different programs and projects."
Lavin also said that the group has raised $90,000 in pledges from individuals and businesses in High Springs that are in favor of the murals and $20,000 for the sign projects. Lavin also said the organization has already put in their order for the first of four entrance signs.
Ambrose addressed several issues that were listed in a handout provided to Commissioners. He read, "The Heart of High Springs has essentially forced the City to implement a mural ordinance to protect itself." Ambrose said he thinks the City could have used it [a mural ordinance] to have kept the "Goggle Girl" mural from happening, something many citizens have said they dislike. "We could have used it then."
Ambrose denied a conflict of interest, saying, "Because someone supports something passionately is not necessarily a conflict of a moral thing. You should have elected officials that are for certain things and advocating...Since I do not personally benefit, it's hard for me to not do my job to represent part of a voice here in the community that does think that a mural project in the community is worth exploring."
Ambrose added that he didn't attend the meeting held earlier in the week because it was listed as a private meeting only to the people who were invited, and once he learned that Commissioner Jones would be in attendance, he thought it might not be good for two commissioners to attend.
City Attorney Andrea Parker responded that Ambrose could have attended as long as they didn't discuss how they would vote on the ordinance being proposed.
Kristy Swilley addressed Commissioners and said she would have appreciated it if Ambrose had presented the potential conflict to the Board on Ethics and received a written response saying there was no conflict. Parker responded that she had presented the issue to the Commission on Ethics and was told there was no conflict of interest since there was no financial benefit to Ambrose.
Swilley said she would like to see a paper trail to that effect directly from the Ethics Commission.
# # #
Email cwalker@
alachuatoday.com
Add a comment