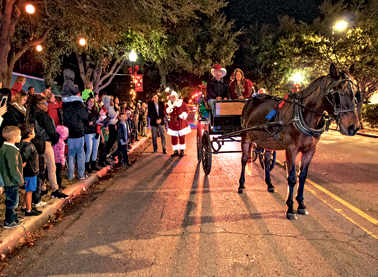 Santa greets the crowd at the Tree Lighting Ceremony in Alachua in the downtown area. Afterward, the jolly elf made his way down Main Street to Hitchcock's Theatre Park to visit with children and listen to their Christmas wishes). (Today photo/RAY CARSON)
ALACHUA – Santa may live at the North Pole and travel the world on Christmas Eve, but like anyone who lives in a cold climate he likes to make a few extra trips to Florida whenever he can. On Friday, Dec. 2, he stopped in Alachua to help light the city Christmas tree and listen to the gift wishes of the local children. For 15 years Santa has been stopping in Alachua on the first Friday of December to visit the children. Ten years ago the city added the tree lighting ceremony to the festivities.
Residents gathered on Main Street near Hitchcock Baseball Park at Skinner Field to watch the tree lighting, listen to musical entertainment and hear comments from city officials. The crowd was in a holiday mood, with children excited to meet Santa Claus. Musician Hannah Emerson performed a set of Christmas music, which was followed by comments from city officials. Assistant City Manager Adam Boukari introduced the speakers, starting with Mayor Gib Coerper and Vice-mayor Robert Wilford. City Commissioners Shirley Green Brown, Gary Hardacre and Ben Boukari, Jr., also spoke.
Adam Boukari then took back the microphone to introduce a special guest. Surrounded by a police escort with lights flashing, Santa and Mrs. Claus arrived in a horse drawn wagon supplied by Cross Creek Cattle Company.
Children crowded around to get a view of Santa and try to get his attention. Santa, along with Adam Boukari, then counted down to the tree lighting and the area was bathed in a warm glow of Christmas lights. But the tree was just a prelude to what most of the children were looking forward to. Santa then rode up to Alan Hitchcock Theatre Park, where he took his seat in a special chair for the children to get a chance to tell him about their Christmas wishes.
On Main Street, characters dressed as elves and Rudolf the Reindeer walked among the crowd greeting children and having their photos taken by parents. A young group of 18 violinists from the Mayra Kucera Music Academy serenaded the crowd and the Boy Scouts sold hot chocolate and coffee to raise money for their troop. But the main attraction was Santa.
A long line formed with children anxiously waiting for a chance to sit on Santa's lap and tell him their wish list. The line was organized and maintained by Mrs. Claus and several elves. As each child sat on Santa's lap they had a picture taken by a photographer, which was sponsored by Walgreens Drug Store. The company provided the service and one 5 x 7 inch print for free as their gift to the community. Prints can be picked up at the Alachua Walgreens located at 15155 N.W. U.S. Highway 441.
One-by-one the line moved forward as Santa patiently gave each child his attention for over two hours. As each child left, they also received a gift bag from the City of Alachua. For many of the children of Alachua this night will be special memory of the night they met Santa Claus.
# # #
Email Rcarson@
alachuatoday.com
Add a comment