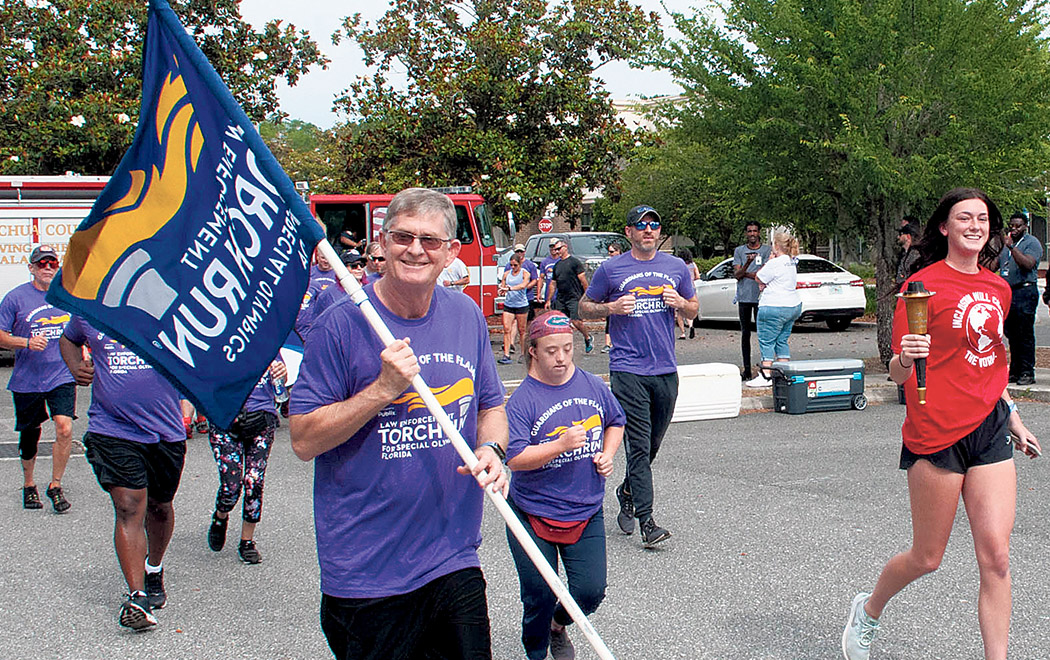 NEWBERRY ‒ On a hot May 6 morning, law enforcement officers from the Santa Fe College Police Department, Alachua County Sheriff's Office, Gainesville Police Department, Alachua Police Department, High Springs Police Department and the UF Police Department, gathered at the Jonesville Publix Supermarket parking lot.
They were there not because of a crime, but for their annual charity run called the Law Enforcement Torch Run (LETR) that helps fund the Special Olympics.
They were joined by members of the Alachua County Fire Rescue, Santa Fe High School students, Special Olympics athletes and community volunteers to participate in a 1.2-mile run/walk. All together there were over 40 runners. Each volunteer or law enforcement officers was wearing a purple Special Olympics shirt they had purchased. The shirt sale is one of the main ways the Special Olympics receives their donations. Another group called the Gull Street Rods brought several custom cars to exhibit along the designated route.
There was also a number of special needs residents attending from Tacachale in Gainesville, which is the oldest and largest community for Floridians with developmental disabilities. These residents were there to watch the race and cheer on the runners. Before the run, an Olympian style torch was lit to be carried by runners and special needs athletes.
Accompanied by a police vehicle escort, the Torch Run started at the Steeple Chase Shopping Plaza in Jonesville before heading south on Northwest 140th Terrace. Runners made their way toward West Newberry Road before ending with a brisk walk retracing the route back to the plaza.
The Special Olympics was the vision of Eunice Kennedy Shriver, a member of the Kennedy family that included Rosemary, who had an intellectual disability. The mission of Special Olympics is to provide year-round sports training and competition in a variety of Olympic-type sports for people with intellectual disabilities who wish to participate, giving them continuing opportunities to develop physical fitness and gain confidence in themselves.
Neither athletes nor parents are charged a fee to participate in the program, and activities exist for those of all ability levels, from the highly functioning to the severely challenged.
Over the years the program has evolved into Special Olympics International — a global movement that today serves over 6 million athletes and Unified partners in 174 countries.
The Torch Run has been held annually since1981 when Wichita, Kansas Police Chief Richard LaMunyon created the Torch Run. With the support of the International Association of Chiefs of Police (IACP), the event has spread across the country with over 97,000 law enforcement members participating in different Torch Runs.
There were over 188 torch runs held in 2019 in various communities and there are now 92 programs worldwide. Known as Guardians of the Flame, law enforcement members and Special Olympics athletes carry the "Flame of Hope" into Opening Ceremonies of local competitions. They also carry it into Special Olympics State, Provincial, National, Regional and World Games.
The flame symbolizes courage and celebration of diversity uniting communities around the globe. The Torch Run has continued to grow over and now includes other fundraising platforms. These platforms include: Plane Pulls, Polar Plunges, Tip-A-Cops, and more. Since the beginning, LETR has raised over $600 million for Special Olympics programs.
# # #
email rcarson@
alachuatoday.com
Add a comment