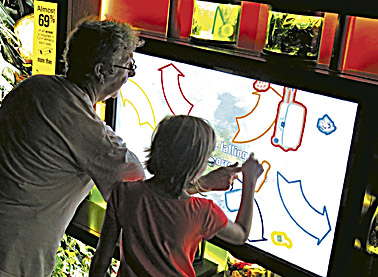 RAINA BARNETT/ Alachua County Today

Families came together inside the Water Ventures exhibit to play games focusing on how to recycle waste items.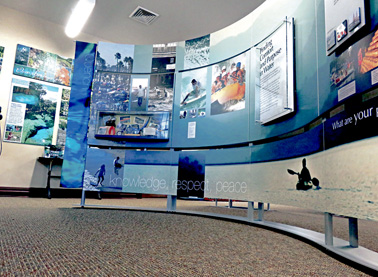 RAINA BARNETT/ Alachua County Today

Inside the Museum on Main Street, exhibits about local waterways illustrate the economic and social importance of maintain the health of area springs.
HIGH SPRINGS – The Smithsonian Institution, the largest group of museums and research complexes in the world, is up and running in the High Springs Museum with an environmental exhibit that will run until Aug. 27, 2016.
Ed Booth, City Manager of High Springs, said it was a tremendous effort from various organizations to help put on the exhibit.
"Volunteers from several clubs, organizations and businesses played a big part in this effort," he said. "We were just one of six Florida cities selected to display the traveling Smithsonian Water/Ways Exhibit in our museum. Of those six cities chosen, High Springs was only one of two locations in north Florida to qualify for this honor."
"To complement the Smithsonian exhibit, museum volunteers created fantastic displays which highlight our local springs and waterways," he said. "This type of exhibit is something you don't see every day and certainly not in smaller towns like ours."
From families to advocates of nature, many different people attended the grand opening of the exhibit Saturday, which concluded a long organization process headed by Kristina Young, the Water/Ways Program Director.
"From application to the final display that visitors saw this weekend took about a year for approval, display creation, sponsor coordination and communication and coordination of the grand opening," said Roger Chambers, High Springs Historical Society President. "It was a lot of work by a lot of people, but well worth the effort."
Various booths were set up with water as a theme throughout. Hot dogs and hamburgers were grilled as orders flowed in around lunch time. The Santa Fe High School band played "Under the Sea" in an ode to the natural beauty of High Springs and its wildlife. Various other bands serenaded passersby as they toured the outside tents, listened to speakers and entered the museum to check out the exhibit.
Al Clements, a member of the National Speleological Association, explained his reasons for visiting the exhibit with his wife.
"I want to see the cave exhibit," he said. "I dive in caves with no ambient light and I, as well as a lot of other people, are highly interested in the technological aspect of cave diving."
The exhibit placed an emphasis on diving gear, the importance of natural resources, recycling, and the natural beauty of the Florida aquifer.
Alachua County Sheriff Sadie Darnell said she attended for a couple of reasons.
"I came to see the vibrancy of High Springs and all the hard work they put into making this exhibit a success," she said. "I think it's very clever, and highlights the beauty of the springs. It's educational but not overbearing; it's really great for kids."
The exhibit was the main attraction, but a traveling interactive exhibit entitled "Water Ventures" was also made available to the public. It highlighted the importance of conserving water and reusing waste water to conserve natural resources.
Jill Lingard, an activist who is involved with the Ichetucknee Alliance and Sierra Club, said invisible pollution is contributing to the degradation of rivers and springs and the aquifer itself.
"It's the nitrates from mining and leaking septic tanks that mess up our waters," she said. "A hundred years ago, swamps were considered bad and we drained them and now we're seeing swamps play an important part in the ecosystem, and it's a matter of undoing the damage that has been done."
# # #
Email Rbarnett@
alachuatoday.com
Add a comment