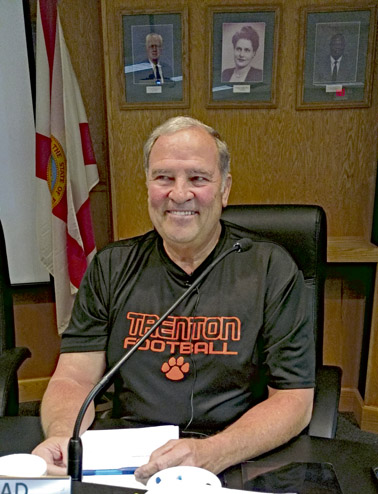 Newberry Mayor Bill Conrad is walking around in a Trenton t-shirt and explained his situation at the Oct. 24 city commission meeting. The shirt is the result of a lost bet about the Newberry vs. Trenton football game. (Today photo/C.M. WALKER)
NEWBERRY – Citizens may be surprised to see Newberry Mayor Bill Conrad walking around in a Trenton t-shirt. He opened the Oct. 24 city commission meeting by explaining the shirt.
"I made a bet with Glen Thigpen on the Oct. 14 Newberry vs. Trenton game," he said. "The bet involved the losing team's mayor wearing the winning team's t-shirt. Unfortunately, we lost, but I am hoping there will be another opportunity for a second meeting of our teams and I'm going to bet him double or nothing next time."
All levity aside, the meeting included a legislative public hearing to receive comments on an ordinance to amend the city's Comprehensive Plan to allow for a new future land use category called "Corporate/Research Park." In addition to the new category, modifications to the Urban Services Area and to the Economic Development Element are also part of this change.
"We are trying to clean up the ordinance," said City Attorney Scott Walker.
The ordinance was approved on first reading, and will be brought back to the commission for second and final reading to hear any additional comments before the final vote.
Commissioners resolved to rename the Newberry Community Center to Martin Luther King, Jr. Center. "A dedication will be conducted around the third week of January," said City Manager Mike New.
As part of the city's housekeeping agreements which are voted on routinely each year, a Traffic Signal Maintenance Agreement was approved which would allow the City of Gainesville to maintain traffic signals and school beacons within the city limits of Newberry.
Although it may seem odd that one city should contract with another to provide services of this sort, the City of Newberry also contracts with the Florida Department of Transportation (FDOT) to maintain the traffic signals on state roads in Newberry.
"We receive funding from FDOT to provide this maintenance service," explained city staff. "The City expects to receive $5,635 from FDOT this fiscal year," said New. The City of Newberry does not maintain a sufficient quantity of traffic signals and beacons to warrant obtaining the training and equipment to perform this function in-house.
A proclamation was read into the record which declared Nov. 10 as International Accounting Day in Newberry. Finance Director Dallas Lee took the opportunity to commend his staff and highlight some of the significant items that had been accomplished by them during the past year.
A decision on the Newberry Fire Department expansion program was put on hold as the city continues to negotiate prices on various aspects of the project to help reduce costs. City staff will update commissioners as to their findings at the next meeting.
# # #
Email Cwalker@
alachuatoday.com
Add a comment