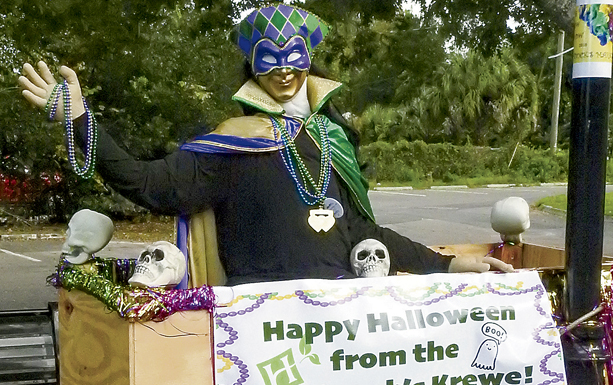 Alachua ‒ It's not Mardi Gras season, but visitors to downtown Alachua may think otherwise. For the past 15 years, the Alachua Chamber of Commerce has sponsored Scarecrow Row along Alachua's Main Street in celebration of Halloween and the fall season. Each year, Scarecrow Row has a theme and scarecrows carry out that theme through use of colorfully decorated costumes, props and whatever the imagination can create. This year, it's Mardi Gras in October as Scarecrow Row pays tribute to the famous New Orleans celebration.
Each business on Main Street has the opportunity to decorate one of the light pole locations on Main Street with a scarecrow they create. They can also partner with a local corporate business sponsor such as grocery stores, realtors, banks and distribution centers. While not all Main Street businesses have a scarecrow, most decorate their display windows to reflect the season.
Businesses not located on Main Street can either partner with a Main Street business or purchase their own pole, which also includes their business name on the banner at each end of Main Street. The money raised goes toward programs and events hosted by the Alachua Chamber of Commerce to help promote business on Main Street and provide services and facilities to the community, including events like Trick or Treat on Main Street and the Christmas Parade. Funds raised by the Chamber of Commerce have also been used to make improvements at Alachua's Hal Brady Recreation Center as well as other projects.
Scarecrow Row is an on-going event throughout the entire month of October. People can walk the street and see a wide variety of hand created scarecrows decked out in the Mardi Gras theme. Some are funny, some are spooky, some are simple, some are extensive, but all are creative. Each participating business has designed and constructed their own display that is entered into the Scarecrow Row contest that will be judged. Prizes, as well as plaques, will be presented for first, second, and third place winners.
# # #
Email rcarson@
alachuatoday.com
Add a comment